For Pete's sake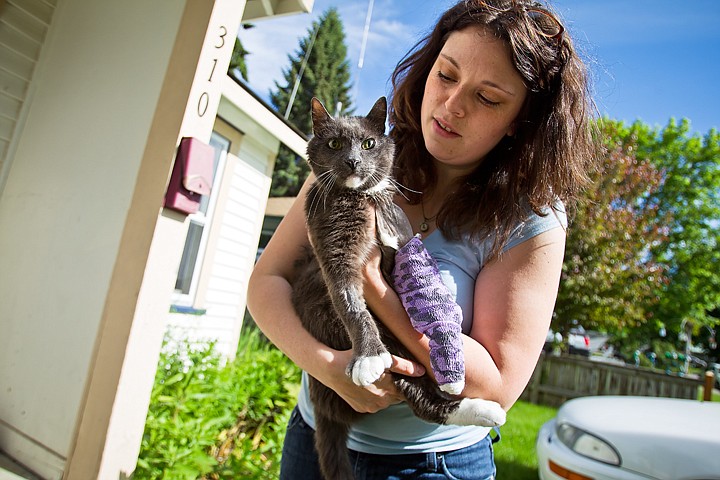 <p>Ami Manning, of Coeur d'Alene, brought her 15-year-old cat, Pete, home from the veterinarian Tuesday after being treated for injuries it received from being shot with a pellet gun on Thursday night.</p>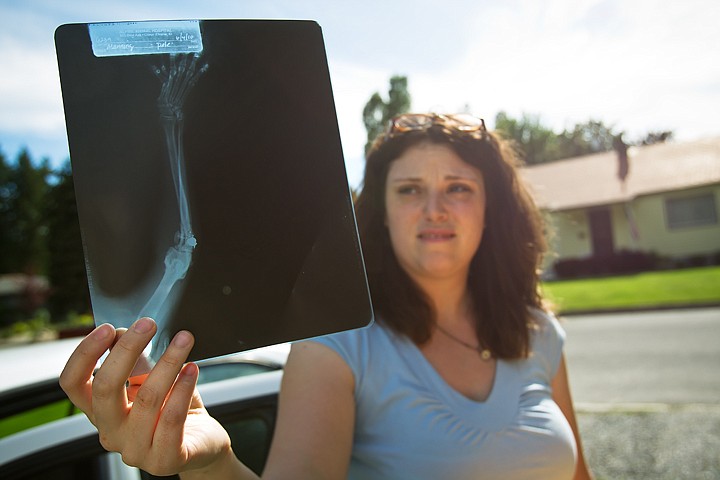 <p>Ami Manning views an x-ray of the pellet that was shot into her cat's leg.</p>
Previous
Next
by
Tom Hasslinger
|
June 9, 2010 9:00 PM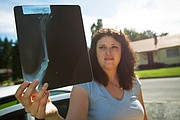 COEUR d'ALENE — Ami Manning isn't after revenge or punishment, she just wants to give a heads up to her neighborhood — any neighborhood really.
Someone shot Pete, her 15-year-old cat.
And if it happened at her 12th Street home near downtown Coeur d'Alene, it can happen anywhere.
"I guess it was my hope it was an accident," she said of the pellet that ripped through Pete's front right leg near the elbow, shattering the bone. "But then what does that mean if there is random bullet downtown?"
Pete, up there in years, doesn't get out too often in colder weather, but was outside last Thursday evening when he was struck.
Manning saw the cat limping, and put it on the bed to inspect for perhaps a thorned paw, seeing a pool of blood instead.
"We were both just ridiculously upset," Manning said of her and her 8-year-old son Holden's reaction.
At first, the local vet recommended amputation, but a specialist in Spokane saved Pete's leg on Monday. On Tuesday the cat returned home.
But the direct hit left Manning with close to $3,000 in vet bills, which her old college roommate is helping her foot.
Manning called police, but without a suspect, the case is cold. She isn't seeking punishment (all animal abuse complaints are misdemeanor infractions in Idaho), but just wants to warn pet owners to be a little cautious letting their animals out of their sight too long.
"It's a big deal," she said. "It's not something that's going to heal quickly."
Pete has to stay inactive for three months to properly mend. That means being mostly stored in the bathroom so he can't run and wander, plus putting him on pain medication.
And Manning considers Pete a family member. She found him as a kitten, rummaging for food in an alley behind the restaurant in which she worked as a college student in Missoula. It was her roommate who named Pete after the Little Rascals' pet companion.
Recent Headlines
---