Back in the saddle ... and headed to school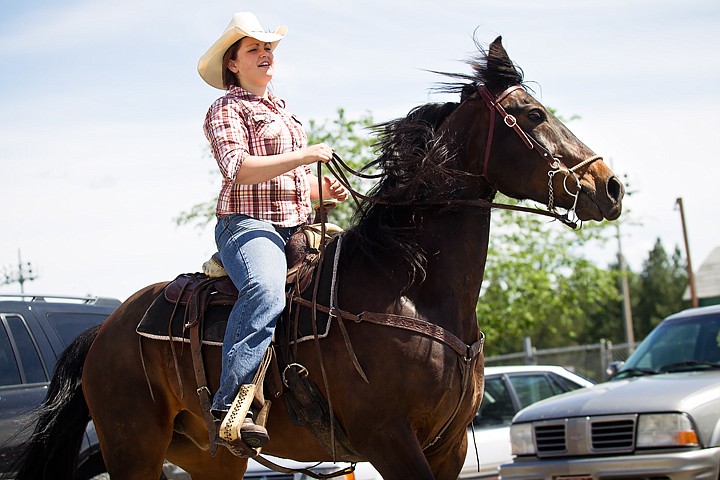 <p>Katie Russell, a senior at Lakeland High School, rides her 17-year-old Morgan gelding, Skipper, in the parking lot after her last day of school on Tuesday. Russell rode the horse to school on her last day, fulfilling a lifelong dream.</p>
by
Brian Walker
|
June 9, 2010 9:00 PM
RATHDRUM - When Katie Russell went to school at Lakeland High on Tuesday - the last day of her senior year - something just didn't feel normal.
But that was all right. It wasn't supposed to.
Russell fulfilled a childhood dream by riding her Morgan horse Skipper to and from school.
"I always wanted to do it," Russell said. "I figured I'd go out with a bang with something fun and different."
Russell reminded Principal Conrad Underdahl of an old law that if a student rode a horse to school, it was the principal's job to tend to the horse during classes.
So Underdahl kept Russell's saddle in his office while Skipper was tied up on a grassy area near the football field.
"This is Lakeland, so I'm sure it's happened before, but it was a funny way to go out," Russell said. "A lot of students and staff chuckled and commented on it."
Russell has mixed her love for riding horses with a variety of activities, including church, National Honor Society, Business Professionals of America, choir and the senior mentor program. She showed horses in 4-H and worked the previous two summers on a ranch near Salmon, Idaho, for some friends.
"She's an outdoor kid who loves to move cows and ride horses," said Katie's mother Debbie. "It's always been good clean fun with Katie."
Russell admitted that she slept in on Tuesday, so she rode Skipper along Highway 53 from a friend's house closer to the school than her Garwood home. But she rode the horse all the way home after school.
"It didn't feel like I was going to school," she said of the ride. "The semi trucks made (Skipper) a little scared at times, but it was still a fun ride."
Recent Headlines
---