Eatery takes on spicier cuisine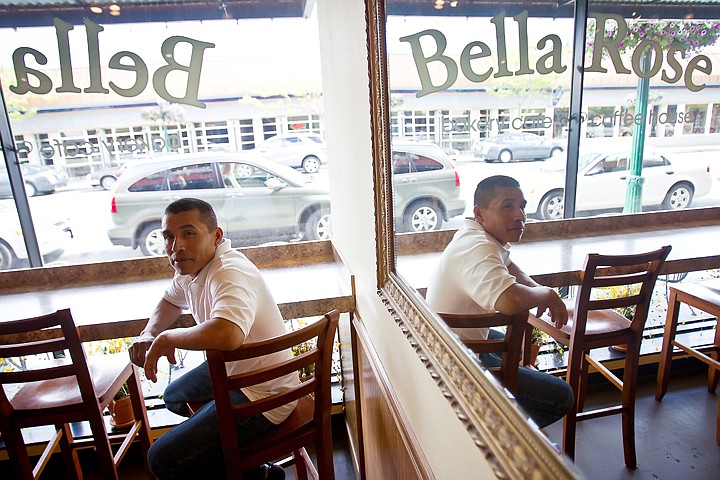 <p>Alex Galindo recently purchased the Bella Rose bakery and cafe in downtown Coeur d'Alene and reopened the eatery Monday.</p>
by
Rick Thomas
|
June 8, 2010 9:00 PM
COEUR d'ALENE - The name will sound familiar, and much of the menu will remain the same, but the new owner of a downtown cafe will soon spice up the fare and make a slight name change to the business.
After being closed for several weeks while final papers were being prepared and signed, Alex Galindo reopened what is now Cafe Bella Rosa, which for the past five years has been Bella Rose, at 213 Sherman Ave.
While the signature pastries, coffee and breakfast and lunch dinners will continue, flavors from south of the border will also be added.
"I am going to incorporate a Mexican menu," Galindo said.
The full line of Mexican dishes will be added as soon as new equipment necessary for the preparation is installed. Meanwhile, daily specials of his southern specialty will be offered, such as Monday's prime beef burritos.
Galindo plans to add the flavors of the states of Oaxaca, where he is from, and Guanajuato, his wife's home. The ingredients, and method of cooking is different, he said.
Among the homemade ingredients are red or green salsa, made mild to suit a wider range of tastes.
"I wanted everybody to like it," Galindo said, adding that he is always ready to add a little heat to suit individual tastes.
"It is easier to add more than to take it out," he said.
He plans to use seasonal ingredients, including a variety of peppers, to add variety and change to the menu. Soups made different ways, and a darker mole sauce will give the entrees their own unique flavor, he said, and even the salsas will vary from time to time.
"Everything is homemade," he said.
Galindo moved to North Idaho from Yakima, Wash., where he previously cooked for five years, then moved into the landscaping business.
"It's been a while," he said.
Frequent visits to Coeur d'Alene took him by the cafe, and he liked the downtown area, and saw the sign listing the business for sale.
"Here we are," he said.
Marilyn Boyd opened Bella Rose in May 2005, offering a selection of fresh pastries and desserts, with salads and paninis a lunch-time staple. She will stay on to break Galindo in to the operation, and the existing staff of five will also remain.
"I'm going to get a real job," she said. But seriously, she added, some time off for the summer will allow her to unwind from the grind of running the business.
Galindo will lease the property until his home in Yakima sells, then he plans to purchase it. The strip of businesses along the block are part of a commercial condominium group, in which each business operator also owns the portion of the building they are in.
Bella Rose had been closed on Mondays, but Cafe Bella Rosa will expand hours from 7 a.m. to 6 p.m. Monday through Saturday and 9 a.m. to 2 p.m. Sunday.
Recent Headlines
---