Knox selected as Timberlake Junior Miss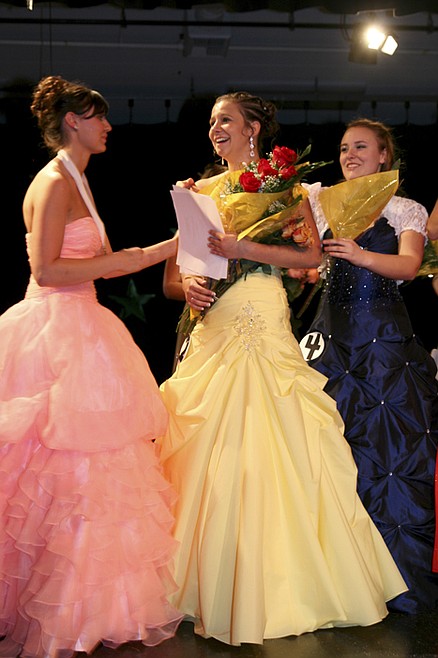 <p>Hailey Knox, center, reacts after earning the title of Timber-lake's Junior Miss 2011.</p>
SPIRIT LAKE - Hailey Knox on Saturday night earned the title of Timberlake Junior Miss 2011 and will go on to represent the other eight participants at the state competition in November in Coeur d'Alene.
"I was very shocked," said Knox, the daughter of Clint and Jennifer Knox of Athol. "Of course I wanted to win, but I wasn't expecting to win. I was extremely shocked, and overwhelmed."
Julie Turley, chair of Timberlake's Junior Miss, said, "The girls were all very supportive of each other. They all had good, unique talents."
The scholarship program was at Timberlake High School, and the event theme was "Through the Decades."
Knox, 17, is a 3.96 student. For her talent, she recited a monologue from Romeo and Juliet in Spanish.
"I've been studying Spanish for a while," said Knox, in her third year of taking the foreign language. "So I pretty much had the monologue memorized in English and Spanish. It didn't seem different than memorizing it in English."
For winning, Knox received a $500 scholarship. She also earned the $100 scholastic scholarship and $100 self-expression scholarship.
Caitlyn Nichols was named Junior Miss alternate and received a $300 scholarship. She also received the $100 interview scholarship and $100 Spirit of Junior Miss scholarship.
Heather Taylor got the $100 talent scholarship, with a dance routine, and Emily Cazier the $100 fitness scholarship.
Recent Headlines
---