Jackson's hometown moves ahead with museum plans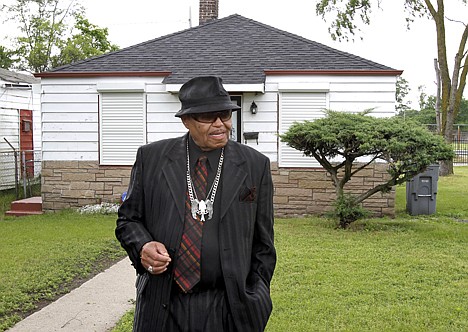 <p>Joe Jackson, father of the late "King of Pop", Michael Jackson, tours the old family home on Wednesday, June 2, 2010, in Gary, Ind. Work could begin next year on a $300 million museum and arts center dedicated to Michael Jackson in his hometown, his father and Gary officials announced Wednesday. (AP Photo/John Smierciak)</p>
by
Karen Hawkins
|
June 6, 2010 9:00 PM
GARY, Ind. - Work could begin next year on a $300 million museum and arts center dedicated to Michael Jackson in his hometown, his father and Gary officials announced Wednesday.
The late singer last visited Gary in 2003 to talk about the project, but no progress was made on it before his death last year. His father, Joe Jackson, said Wednesday that he was "just carrying out his legacy" by getting involved.
"This is a happy day for me because this is something that my family and Michael have always wanted," Joe Jackson said. "We're bringing something back."
Gary Mayor Rudy Clay said the project would create thousands of jobs and, when finished, was expected to bring at least 750,000 visitors a year to the city. He estimated it would generate $100 million to $150 million in income for the community each year.
"This project will be the magnet that will draw people from all over the world," Clay said.
The money to build the Jackson Family Museum and Hotel and the Michael Jackson Performing Arts and Cultural Center and Theaters will come from investors and donations, Clay said.
After years of promises about the project but no action, residents were cautiously optimistic. People said they were hopeful because Wednesday's announcement was the furthest along the project has ever come, with the city's donation of 300 acres of land.
Police Chief Gary O. Carter was impressed by Joe Jackson's presence.
"Why would he come all the way here if it wasn't" going to happen, Carter said.
Seretha Harvey, 24, grew up in Gary and said she hoped the project would happen, and that it would bring jobs and help change people's image of the financially struggling city.
"I've been in and out of Gary for the past few years, and I've seen it deteriorate. I'm worried about whether this is actually going to matriculate," she said, but added, "I'm optimistic about it."
Recent Headlines
---