Winter storms affect states throughout West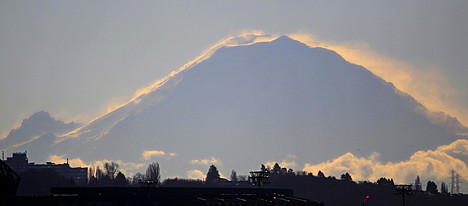 <p>A halo forms around Mount Rainier as a thin layer of clouds and blowing snow on the mountain are backlit as seen from Seattle, Thursday. While much of the west battled nasty winter weather, western Washington expected to have mostly clear skies and moderate temperatures for the next several days.</p>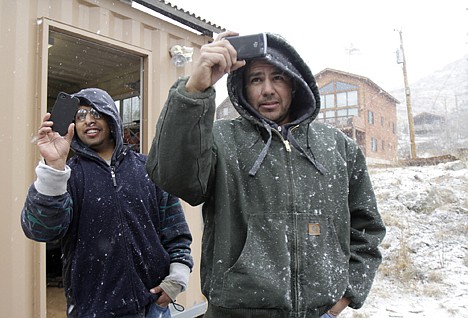 <p>Leonel Torres, left, and Noah Vasquez use their cell phones to take photos of the snowstorm that moved over Summerhaven, Ariz., on Wednesday.</p>
Previous
Next
|
December 31, 2010 8:00 PM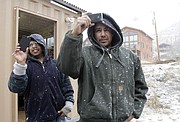 BELLEMONT, Ariz. (AP) - A winter storm pummeled the western U.S. on Thursday with fierce wind gusts, heavy rain and more than 2 feet of snow, closing hundreds of miles of roads and dumping a snowy mix of precipitation on the edges of Phoenix.
Officials closed a road into Yosemite National Park in California after a rock the size of a dump truck tumbled onto the road, and strong winds created snow dunes on rooftops, front yards and streets across mountainous areas of Arizona.
Snow and ice forced an hours-long closure of the two major thoroughfares in northern Arizona, stranding motorists south of Flagstaff and the Grand Canyon. People in Phoenix were stunned at the sight of snow-type flurries that the National Weather Service said were a combination of hail and snow that melts before it hits the ground.
Drivers wanting to know how to get around the storms overwhelmed an Arizona hotline that provides automated updates on road conditions. State Department of Transportation spokesman Timothy Tait said the line took in 1.2 million calls in a 12-hour span Thursday.
Dorothy Brooks, of Dallas, was creeping along Interstate 40 at 20 mph on her way to Las Vegas, passing vehicles stuck on the side of the road, when she pulled into a Bellemont gas station to wait out the storm.
"It's devastating," she said, above the cry of a 9-month-old baby she was pushing through the aisles. "You can't call Mother Nature anyway. You never know when she's going to burst out."
The Silverton Mountain resort in Colorado reported 22 inches of snow, but only about 120 people were on the mountain because officials closed highways leading to the ski area for avalanche control and because of adverse conditions, resort co-founder Jen Brill said.
R.A. Burrell, of Colorado Springs, left home around 3 a.m. to avoid getting stuck on the way to the extreme ski area and made it before the lift started running.
"I thought we'd really just come on a magical day, which is what it turned out to be," he said during a break from making turns. "We just got lucky."
The weather service said snow could fall at a rate close to an inch an hour starting Thursday evening in the Denver area, which usually has around 25 inches of snow by this time of the season but had just 1.5 inches so far.
United Airlines, the dominant carrier at Denver International Airport, canceled 32 United and United Express flights from Denver on Thursday, spokesman Rahsaan Johnson said.
Major highways were also shut down in parts of New Mexico, Colorado, Wyoming, Montana and Nevada.
Forecasters said strong winds in California were expected to die down by early Friday, allowing a cold air mass to create frost and freeze problems in the region.
Phoenix braced for freezing overnight temperatures as well, a rarity in the desert city. Inmates housed at the city's Tent City jail facility were being issued extra blankets and pink thermal underwear - part of Sheriff Joe Arpaio's odd method for punishing prisoners.
Residents in the Phoenix area couldn't believe what they were seeing when white stuff starting falling from the sky. The wintry mixture of snow and hail had the appearance of snowflakes.
Southwestern New Mexico was being hit with blizzard conditions that were forecast to continue through midnight Thursday. Winds of up to 65 mph, heavy snow and rapidly falling temperatures made travel difficult if not impossible, forecasters said.
Recent Headlines
---