Plenty to feel good about in 2010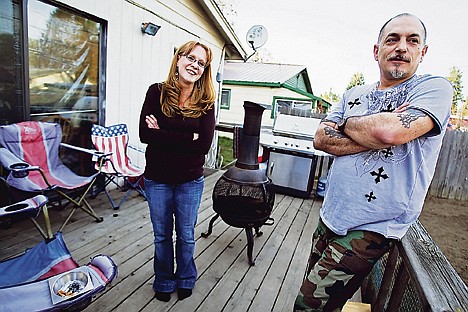 <p>Penny McCown, and fiance Scott Kalis, of Coeur d'Alene, talk about an early spring drive in the Montana mountains that lead them to a man who had been stranded in his car for four days after his vehicle became stuck in the snow.</p>
|
December 31, 2010 8:00 PM
Editor's note: The following are the top "feel-good" stories of 2010, as selected by The Press newsroom.
Best ever Press Christmas for All
Like the brightest star atop the tallest tree, it was a stellar 2010 holiday season for the 25th annual Press Christmas for All campaign.
Readers of this newspaper dug deep into their pockets and generously gave a record-setting $200,000 to the holiday charity program.
Hundreds of givers provided the means for food and gifts to 9,595 Kootenai County residents who asked for help celebrating the spirit of the season.
The recipients - the working poor, some homeless, many jobless or disabled - felt the compassion of a caring community during what can be a very difficult time of year for them.
Anonymous in Athol, who helped this year's campaign with a pair of challenges and some massive giving, said: "In this economy most things are way down. The success of Press Christmas for All really speaks to the people of North Idaho."
Couple's Sundaydrive a life-saver
It was a Sunday drive that saved a life.
Coeur d'Alene couple Penny McCown and Scott Kalis jumped in their 1997 GMC Sonoma truck in March for a Sunday afternoon drive that ended up turning into a rescue mission.
Of all the routes the couple could have taken, they headed straight for Montana, past the town of St. Regis, and nine miles up the unmaintained Gold Creek Road, a road so covered in ice and snow the couple says now they had no business going up as far as they did.
But they did, and found 67-year-old Louis Rogers writing out his goodbye letter inside his stuck Cadillac, certain that he was going to die.
Around 200 people had been searching for Rogers for several days, after his car got stuck but before the Coeur d'Alene couple found him and took him back to town.
Parrot flies away
In August, the family parrot managed to fly out the door of the Partenselder home in Coeur d'Alene.
Crystal Partenselder would spend months searching for that African grey parrot named Tuii. There were occasional sightings of the bird on trees, fences and buildings, but no one could catch Tuii, and it wouldn't come home.
Still, Partenselder wouldn't give up and spent mornings and evenings walking, looking, in hopes of finding Tuii.
That's when Peter Taylor decided to help out.
The Hayden man gave Partenselder a parrot named "Yogi" that lived with him and his wife, Nancy.
"I just feel good about giving him to someone who will take care of him. That's what he needs," Taylor said.
Yogi and Partenselder hit it off likes best buds in the Taylor living room in October.
The parrot perched on her finger quietly, after squawking loudly moments before when Taylor held it
"You'll be OK, you'll be OK," the Coeur d'Alene woman said as she looked it squarely in the eye. "You're a good boy. You're very pretty."
As she spoke, Yogi stretched out a leg and ruffled his tail.
"That means he's really happy," Taylor said, smiling.
Frozen fowl frenzy
First, it seemed more than 1,500 families might not receive turkeys in their Thanksgiving food baskets from the Community Action Partnership Food Bank.
Carolyn Shewfelt, manager of the Community Action Partnership food bank, wasn't sure they would receive enough donations.
"I was thinking, there's no way," she said.
That was until word got out to the community of the frozen fowl shortfall.
Turkeys starting flying in just as fast as people could carry them out.
In the end,early every one of the 2,500 who signed up to receive a food box, and another 100 or so on a backup list, had either received their turkey or had been called to come pick it up.
In December, Doug Parker, owner of Parker Toyota, donated 2,880 turkeys just in time for plenty of Christmas dinners across the five northern counties.
"The idea of someone not having a Christmas meal stimulated my thinking, I guess you'd say," Parker said. "It didn't seem right."
Parker's donation was $38,000 worth of gobble-gobble and the most the Community Action Partnership Kootenai County Food Bank can remember.
"I read about their plight," Parker said of the food bank keeping up with the demand. "They told me they would have no trouble at all getting a hold of the people who need them."
Hydro Burger
Mira Slovak gets his Hudson's burger, 47 years late.
The hydroplane racing champion survived a spectacular crash in the 1963 Diamond Cup race on Lake Coeur d'Alene.
The story of the crash has been told many times at Hudson's Hamburgers, Todd Hudson said.
His father, Roger, a lifelong hydroplane enthusiast, had been watching at the race.
And later, motivated by his long friendship with Mira "The Fighting Czech" Slovak, Roger asked if he could have the racer's jumpsuit and helmet from that day for his collection of hydroplane memorabilia.
"I said, 'It's still bloody, but you can have it,'" Slovak remembered. "He said, 'How much do you want for it?' and I said, 'How about you owe me a hamburger?'"
Decades later, Slovak returned to collect.
In town for the Diamond Cup Regatta historic exhibition and banquet in September, the 81-year-old racing legend moseyed into the burger joint on a Friday morning and ordered the cheeseburger his friend had promised him so long ago.
Taking a hearty bite, Slovak nodded as he chewed.
"Excellent," he murmured.
Helping Annie
The community has a history of rushing to the help of fire victims in need, and it was no exception when Annie Davis lost her Post Falls mobile home about a month ago.
The single senior woman and her four show dogs were provided a place to stay - first at a hotel and then at a citizen's home - and was given money and other donations to help her through the tragedy.
After seeing her story in The Press, an Oldtown man plans to donate a fifth wheel for her to live in on her property on Elk Drive.
Davis' home was not insured. She said she gets less than $500 from Social Security each month, has pancreatic cancer and has been going to a Seattle facility for treatments. She also has the sleeping disorder atypical narcolepsy.
Leonard named U.S. Junior Miss
Madison Leonard, 18, was crowned America's 2010 Junior Miss in June. The 2010 Coeur d'Alene Junior Miss and Idaho's Junior Miss received $40,000 in scholarships.
The victory began a whirlwind of special appearances for the Hayden Lake teen, including an appearance on CBS "Early Show" with David Price, and on "Fox & Friends" with Gretchen Carlson. She even made a hometown appearance in the Coeur d'Alene Fourth of July parade.
Leonard had a GPA of 4.44 at Coeur d'Alene High School and was salutatorian of the class of 2010.
Central Bark opens in Cd'A
More than 200 people and 150 canines celebrated the opening of Coeur d'Alene's first off leash dog park that opened on Labor Day.
The lush 2 acre site, fenced beside Northshire Park off Atlas Road, came to be from the fundraising efforts of the Kootenai County Dog Park Association.
The canine loving volunteer group raised roughly $20,000 in donations to build the park. The land on which it sits belonged to School District No. 271, which entered a no-cost lease agreement with the city of Coeur d'Alene to house the temporary site until a permanent one can be arraigned.
The park is free.
But there are rules listed by the front gate. There's a limit of two dogs per person, and owners are expected to pick up their dogs' waste. No aggressive animals are allowed.
Second chances for furry friends
A pair of pooches given up in 2004 were unexpectedly reunited with their original owner in December, and in June a yellow lab dumped from a car on a street in Coeur d'Alene was given a second chance to be man's best friend.
It had been six years since Raymond Behrens, of Deary, Idaho, gave his two beagles to a Boise couple. He was 18 at the time, and had to let them go because he had enlisted in the Navy and was headed for boot camp.
After a tour in Iraq and two tours in Afghanistan, Behrens was stunned to find his beagles, a brother and sister named Bullet and Trigger, still together and available for adoption on a website.
"I thought there's no way that can be my dogs. There's no way that's possible," he said.
But they were, and they were being fostered in the home of a volunteer with Second Chance Pet Rescue in Hayden.
Behrens, 24, with his wife and 2-year-old son, was reunited with his beloved pets, and brought them home just in time for Christmas.
Tate Mitchell watched last June as a dog was thrown from a vehicle and left on a Coeur d'Alene street as the car sped away.
The act infuriated the 32-year-old Mitchell who watched the animal chase the car for several blocks. He followed the dog quickly on his bicycle, and then brought it home, vowing to never let it go.
"There's no reason for that kind of cruelty," Mitchell said. "All they would have had to do is find another home for her, not dump her."
With help from some generous Press readers, Mitchell was able to keep the dog, a yellow lab less than three years old.
He named the animal Chance."This is a second chance for her," Mitchell said.
Recent Headlines
---