Senior shares gift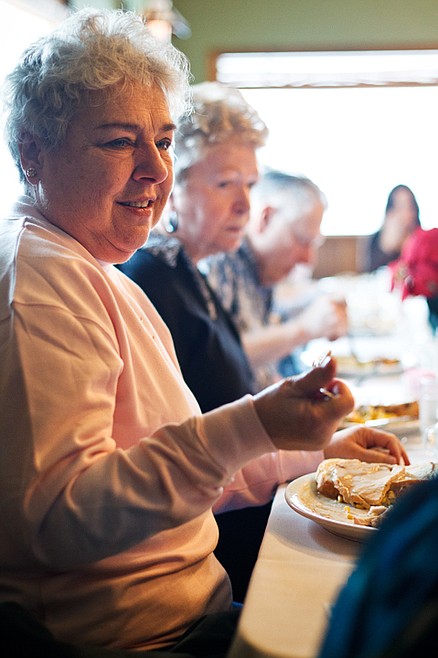 <p>LaVonne Lynch enjoys lunch Wednesday at Sargent's Restaurant with friends and neighbors from the Hayden Crossing Senior Apartments. The luncheon was part of a donation granted through the Twilight Wish Foundation, Hayden Crossing apartments and Sargent's Restaurant.</p>
by
MAUREEN DOLAN
Staff Writer
|
December 30, 2010 8:00 PM
HAYDEN - A trip to Vegas was at the top of her wish list.
Second on LaVonne Lynch's list of wishes was the chance to share a holiday luncheon with the others who live where she does - in a senior apartment complex in Hayden.
Lynch went with the No. 2 wish.
"I just felt they would enjoy it, and I'd just as soon give back to my friends and neighbors," Lynch said.
Her wish was granted Wednesday with help from the Pacific Northwest chapter of the Twilight Wish Foundation, a national nonprofit that helps make wishes come true for income-eligible seniors who cannot fulfill their desires themselves.
Along with 15 of her fellow residents of Hayden Crossing apartments, Lynch enjoyed a meal Wednesday afternoon at Sargents Restaurant on Government Way.
"She is so incredibly selfless. She could have asked for something for herself, but she thought this was more important," said Elinor Foltz, regional director and founder of Twilight Wish's local chapter.
Based north of Spokane in Colbert, Wash., the Pacific Northwest chapter got its official start in 2009, on the same day Foltz's mother, who died in 2007, would have turned 90.
After her mother's death in 2007, Foltz decided to start an organization that would grant wishes for community elders.
Foltz then discovered the national Twilight Wish Foundation, begun in 2003 in Pennsylvania, already doing this work in other parts of the country.
"I thought, 'Instead of reinventing the wheel, I'm going to join them.' Now I've devoted my life to it," Foltz said.
In its first year, the Pacific Northwest Chapter of the foundation has granted six wishes in the region. Since 2003, there have been 1,550 wishes granted nationally.
The local organization is in the process of granting another wish for someone else in Hayden - a 92-year-old who requested a hearing aid.
Simple needs like hearing aids, dentures and power lift chairs are common wish requests, Foltz said.
"A lot of our seniors like to go home to their birthplace of origin one more time, see a relative, or have a family reunion," she said.
They receive and honor requests for rides in blimps, hot air balloons, or a special kind of airplane.
There are some restrictions, Foltz said. The group does not build houses or finance renovations, although they will help with a wheelchair ramp.
They won't write a blank check, pay bills or pay for medical items including medications and surgery. The organization doesn't purchase physical assets - no boats, planes or automobiles - and they won't finance anything political or illegal.
"Most requests are modest in nature," Foltz said.
The wishes are funded mainly through individual and corporate donations.
The group also accepts assistance from those who have the means to make a wish come true.
Sargents Restaurant owner Terry Eastman helped make Lynch's wish a reality.
Eastman had never heard of the Twilight Wish Foundation, but when he was approached to participate in granting a wish for a senior in the community, he didn't flinch. The restaurant donated a significant part of the cost of the luncheon.
"If we can do it, and that's somebody's wish, to share that, let's make it happen," Eastman said. "This isn't about giving back so much as about respecting what they've done."
To qualify to have a wish granted, a person must be a U.S. citizen at least 68 years old, and have an annual income of less than 200 percent of the poverty level which is about $21,600. The individual must be cognitively, emotionally, and physically capable of communicating and experiencing the wish.
"We do not just hand out wishes randomly," Foltz said.
The person must also have a documented history of service in the community, which Lynch does.
"She still tries to help out when she can," said Lori Montgomery, property manager at Hayden Crossings. Montgomery and the company in charge of the senior complex where Lynch lives also contributed to the luncheon.
Lynch, 68, battles a multitude of health issues. She has undergone 14 surgeries and has been disabled for nearly 30 years. Currently, she contends with kidney disease and dialysis treatments.
Despite this hardship, Lynch still volunteers her time to help other seniors in need. She formerly served as Coeur d'Alene chapter president of AARP and member of North Idaho's CareNet, a senior networking group comprising diverse agencies and organizations that work with seniors. Previously, Lynch has managed low-income senior apartments and acted as an advocate on behalf of those seniors.
These days, she works as a volunteer in the office of one of the programs coordinated by the Area Agency on Aging of North Idaho.
"She is so incredibly selfless. She could have asked for something for herself, but she thought this lunch was more important," Foltz said.
Information: www.twilightwish.org or e-mail Elinor Foltz at PacificNW@twilightwish.org
Recent Headlines
---