Road named for World War II hero Vernon Baker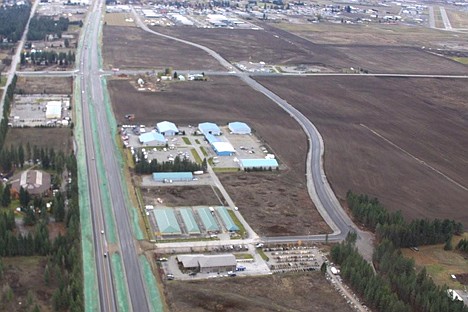 <p>An aerial view of the new Vernon J. Baker Boulevard, officially named Tuesday by Kootenai County commissioners after Baker, a World War II Congressional Medal of Honor recipient from St. Maries who died in July. The section of road is north of Hayden and runs parallel to U.S. Highway 95 between Lancaster and Bentz roads.</p>
by
MAUREEN DOLAN
Staff Writer
|
December 29, 2010 8:00 PM
COEUR d'ALENE - Vernon Baker's name is now firmly etched into the Kootenai County landscape.
County commissioners on Tuesday officially named a new road north of Hayden after Baker, a Congressional Medal of Honor recipient and World War II veteran who lived in St. Maries until his death in July.
Baker's widow, Heidy Baker, was thrilled to hear the news.
"Oh, I can't believe it. That is such an honor," she told The Press by telephone from her home in St. Maries. "This is absolutely wonderful. I thank everyone who was involved. I thank everyone for this."
The new Vernon J. Baker Boulevard is a frontage road that runs parallel to U.S. Highway 95 between Lancaster and Bentz roads in an unincorporated section of the county.
The commissioners first considered the road naming in November, and moved forward after confirming the action would not be in violation of any ordinances.
"It is something that we wanted to accomplish," said Commissioner Rick Currie. "My only problem with it is, 'Why do we always wait until they've passed away when we do these things?' He's very deserving, and it should have been done while he was still with us."
Baker received the Congressional Medal of Honor from President Clinton in 1997. He was one of seven African-American soldiers to receive the medal - the military's highest honor - more than 50 years after World War II ended. Baker was the only one still living to accept the award.
He died in July and was buried in Arlington National Cemetery.
Baker received the congressional medal for the heroism of his actions during a battle near Viareggio, Italy, in April 1945.
He led his company's attack against a strongly entrenched enemy in mountainous terrain. When his company was stopped by a concentration of enemy fire, Baker crawled forward, destroying six machine gun nests, two observer posts and four dugouts. On the following night, he voluntarily led a battalion through enemy mine fields and heavy fire.
Noelan "Mac" McCormack, a Marine Corps League member from Coeur d'Alene, spoke to the commissioners Tuesday at their meeting.
"I told them, 'It's an honor to be able to look at our veterans that have done so much to keep us free from tyranny," McCormack said. "It's a great honor for us to be able to do this."
Recent Headlines
---