Car crashes into Post Falls Radio Shack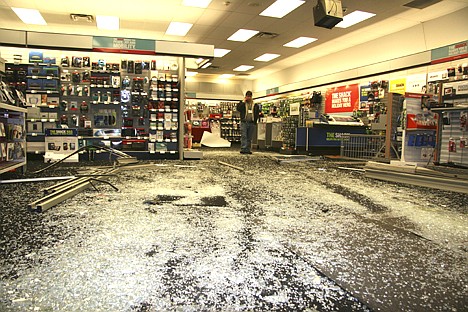 <p>Radio Shack employee Jason Williams surveys the damage while making a call on Monday night after a car was driven into the business next to the Walmart on Mullan Avenue in Post Falls. No one was injured.</p>
by
Brian Walker
|
December 28, 2010 8:00 PM
POST FALLS - When a car crashed through the front glass door of the Post Falls Radio Shack and was barreling down on him on Monday night, employee Barry Morgan had one thought.
Retreat behind the counter.
"I hopped over and luckily it stopped right at the counter," Morgan said. "All the glass looked like a waterfall when the car came through."
No one was injured and there were no customers in the store during the incident about 7 p.m. at the Mullan Square business, 3134 Mullan Ave., next to Walmart.
The crash took out the front door and one of the adjacent glass windows.
Richard Clearwater, 50, Post Falls was driving the 1993 Ford Taurus that jumped the sidewalk curb and went completely inside before it was stopped.
"The pedal either became stuck or I stepped on it," said Clearwater, who was visibly shaken up, but not injured.
Clearwater's son, Brandon Clearwater, who was the only passenger, estimates the car was traveling about 15 mph when it crashed through.
"He tried to put it in park, but hit the gas pedal instead," Brandon said.
The driver, who has a medical condition, was not cited.
Morgan was the only employee in the front retail portion of the store. Two others were working in the back.
The car had relatively minor damage. The business was to be boarded up on Monday night.
Recent Headlines
---