Midwest farmland prices soar due to high demand
by
Michael J. Crumb
|
December 26, 2010 8:00 PM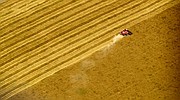 DES MOINES, Iowa - Increased commodity prices and strong demand have sent prices of farmland skyrocketing, making it more difficult for young and beginning farmers to get established but strengthening the balance sheets for those who own the land.
Across the Corn Belt, the price of farmland was on the rise in 2010. The highest increases were seen in Iowa, where values rose 13 percent and an acre of farmland sold for upward of $7,000 in some areas of the state. Minnesota and Wisconsin also saw double digit increases in farmland value, averaging 12 percent and 11 percent respectively, according to the Federal Reserve Bank in Kansas City.
"A lot of it is driven by commodity prices," said Jason Henderson, a branch manager and economist with the Federal Reserve Bank in Omaha, Neb. "As soon as June, the Russian drought started to raise concerns
about global crop supplies and we saw commodity prices begin to rise and we saw farmland values rise with commodity prices."
Nebraska, Kansas and Missouri all saw average farmland values increase about 9.5 percent in 2010. Illinois, Indiana, North Dakota and South Dakota also saw average increases ranging from 8 percent to 11 percent.
Besides increased commodity prices - for crops such as corn and soybeans - there has been an increased demand for farmland, which is increasingly seen as a stable investment.
"We're starting to see more interest in farmland purchases by nonfarm investors," Henderson said. "It's more attractive than other kinds of fixed income investments, CDs, stock market investments. It looks like an attractive rate of return for some investors."
Nonetheless, farmers are still the number one buyer of farmland.
Royce Elker, director of appraisal services for the Minnesota-based agricultural financial company, AgStar, said farmers buying more land are "investing in their own business.
"The positive thing is the balance sheets of farmers look better, there is more capital," he said. "It's easier to get money when you have more net worth and the more land you can use as collateral."
Retiring farmers look at the increasing value of their land as a boost to their retirement plan, Elker said.
"People who own land are hesitant to sell it because they're not finding a good alternative for their money," said Lee Vermeer, vice president of real estate operations for the Omaha-based Farmers National Company, a farm management company.
Henderson said no declines in farmland value have been seen across the U.S in 2010, but some areas have seen slower growth than in the Corn Belt.
Texas saw just a 2.8 percent increase, and Oklahoma farmland increased in value by 1.5 percent, Henderson said.
A lot of the wheat grown in the southern plains was harvested before the commodity prices soared, holding down farmland values.
In Oklahoma, energy markets heavily influence land values and natural gas prices have not risen as dramatically as crude oil. The land also carries mineral rights and the revenue collected from natural gas extracted from the land wasn't has high in 2010, Henderson said.
"So that was keeping a lid on farmland prices," he said.
Michael Duffy, an Iowa State University farm economist, said low interest rates and high commodity prices have created a tremendous demand for farmland, but few sellers, he said.
"People are asking themselves, 'where am I going to put my money' and farmland looks as good as anything and as a long-term investment it's probably better than most," Duffy said.
Duffy said more than half of full-time farmers rent some of the land they till or graze, and those rents will go up as the value of the land rises.
"It's a double-edged sword," he said. "Rents are going to go up so it cuts into the profits of the farmer but it also increases the return to the people who own the land."
Duffy said high property costs can make it difficult for young farmers to get started.
Randy Hertz, a financial planner with Hertz Farm Management in Nevada, Iowa, said people should be cautious when buying farmland and not get caught up in the fanfare of the high prices. He said a farm in northwest Iowa's Sioux County recently sold for $13,950 an acre, but that is the exception. By comparison a farm in southwest Iowa sold for less than $2,000 an acre, he said
"You can buy a little Chevy or a Mercedes or a Cadillac," he said. "Everything is priced according to quality and income producing capability. There are circumstances where you might see a very high price but not every farm is worth $8,000 an acre. There is a wide range of values based on the neighborhood and who owns it."
Still, farmland is typically a good investment, he said.
"Historically, farm lands earns 3 to 4 percent a year," Hertz said.
Hertz also said that farmland values stabilized in 2008 before dropping about 2 percent in 2009.
"So over a two-year period, the increases this year don't look so much," he said.
Nonetheless, prices have bounced up significantly in the past 60-90 days, Hertz said.ar
John Blanchfield, senior vice president for agricultural and rural lending for the American Bankers Association, said buying farmland is at the top of the list of a farmer's priorities, right after equipment purchases, maintenance and home repairs.
He said evidence is showing the income generated by high commodity prices is allowing more farmers to pay cash for land rather than taking on debt.
"The prices are certainly frothy," Blanchfield said. "You can call it a bubble but not a credit bubble from what I can see. It's a prosperity bubble and the fuel is cash, not debt."
Recent Headlines
---