Famed Boise building gets freshened up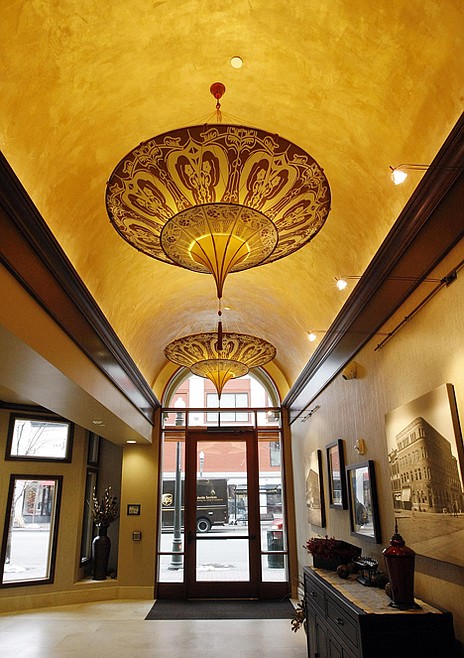 <p>Mike Fery and company have been renovating and restoring the Boise City National Bank building at the corner of Idaho Avenue and 8th Street in downtown Boise.</p>
by
Cynthia Sewell
|
December 26, 2010 8:00 PM
BOISE - In the past year, a Boise company has spent several million dollars renovating the Boise City National Bank Building at the southwest corner of 8th and Idaho streets in Downtown Boise. And compared to what they're getting, that could be a bargain.
Built in 1891 and now dubbed the 805 Idaho Building, the four-story sandstone structure is on the National Register of Historic Places.
Today, it would be nearly impossible to replicate the building, said Michael Fery, owner and CEO of Rocky Mountain Cos., the Boise company that bought the building in November 2009. Fery was drawn to the building's historical value, dignified Downtown presence and solid structure.
The four-story, 36,000-square-foot building's exterior is constructed entirely of sandstone quarried from Table Rock. Some of the sandstone walls are up to 24 inches thick, giving the century-old building continued durability. Marble, plaster and other details within the building would be cost-prohibitive to build today.
"This building represents an architectural style generally known as Romanesque Revival," said Preservation Idaho board member Dan Everhart. "It is one of Downtown's best examples of this style."
Chris Penland, Rocky Mountain's director of acquisitions, wouldn't say how much the company paid the former owner, Rick Peterson, developer of the ill-fated Boise Tower project, but it was less than Ada County's $2.6 million assessed value.
The bargain price allowed Rocky Mountain to use more cash for the renovations that have been needed for the past 15 years and keep lease rates low, Penland said.
About a third of the building has already been leased, and the company is working with several other potential office and retail tenants.
A new restaurant Fork, referring to the "farm to fork" movement that will inspire the cuisine with local and Northwest influences is slated to open in late February in the space formerly occupied by Bad Irish. The restaurant's interior is undergoing a complete remodeling.
About 30 years ago, the building, along with many other Downtown Boise buildings, faced the wrecking ball during an urban renewal frenzy. It survived, but many historically significant Downtown buildings did not.
"There was a time when it was believed that new was always better," Everhart said. "Fortunately, we have gotten past that age of demolishing historic buildings. We now recognize the significance of historic buildings."
Architect John King designed the building with additional work done by famed Boise architects Tourtellotte and Hummel in 1913.
In its past lives, the building has been home to Boise City National Bank, First Security Bank, the federal court and marshals office, Idaho Power and the J.R. Simplot Co.
During the renovation, Rocky Mountain kept some details from the building's past eras nine 100-year-old bank vaults are scattered throughout the building. Marble columns and wainscoting appear throughout, and a black-and-white tile floor bears Idaho Power's name.
The restored dark wood paneling, molding and other mid-century details in some of the offices evoke the set of "Mad Men," especially in Simplot's former office, with its commanding views of Downtown, the Statehouse and the Foothills. The building's common areas feature large-scale historic photos of Downtown Boise.
The building also has modern features, including camera surveillance and controlled access systems and flat panel televisions. About 15 years ago, the former owner put in seismic, electrical and plumbing upgrades and added a geothermal heating system.
"It is a landmark of Downtown Boise and it certainly deserves this kind of investment," Everhart said.
"We hope that other property owners see the value of these types of projects," Everhart said. "We hope to see continued investment in Downtown Boise's historic infrastructure."
Recent Headlines
---