Vision Quest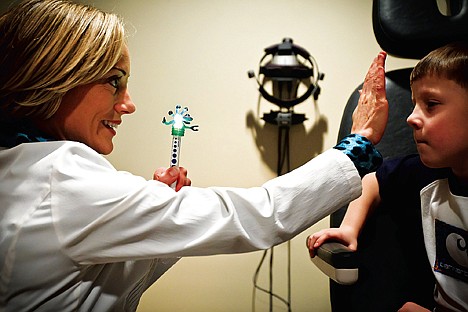 <p>Dr. Sarah Marossy performs an eye exam Tuesday on Kallen Higdon, 5, at her Post Falls practice.</p>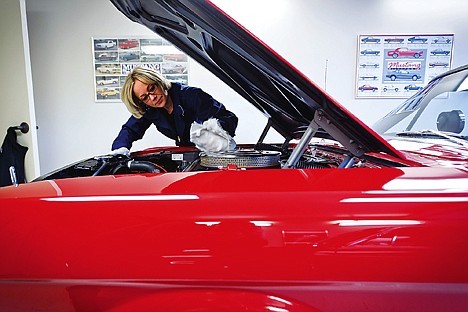 <p>Sarah Marossy details the engine bay of her 1966 Mustang GT350 at her garage in Coeur d'Alene. Marossy grew up working on cars alongside her father and her passion for Mustangs has grown to a collection of the muscle cars.</p>
Previous
Next
by
BILL BULEY
Staff Writer
|
December 25, 2010 8:00 PM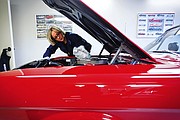 COEUR d'ALENE - Sarah Marossy will tell you she's a bit of a dabbler.
She'll tell you she likes to try different things. She'll tell you she likes to challenge herself because "it's fun."
Believe her.
It's true. All of it.
To a point of, well, ridiculous.
"It keeps me going," said the 35-year-old optometrist who has a lengthy and impressive list of achievements on her resume - and she's far from done.
She subscribes to a life's philosophy that there are two directions you can take - one way, you do the things you want to do. The other, you don't.
Sarah Marossy is definitely a doer.
First, of course, she's an optometrist. She works at Post Falls Optometric Physicians and this year received the national Young Optometrist of the Year award from The American Optometric Association.
But she tends to brush aside her accolades.
"To me, optometry as a title is just a door. It's a key to explore more areas. This is what I am, this is what I could do," she said.
In 2007, she founded the Idaho Children's Vision Coalition.
In 2008, she received the Idaho Optometric Physician of the Year award for leadership and public service.
She's president-elect for Idaho Optometric Physicians, and next year will be its first female president.
She's a commissioner on the Idaho Commission for the Blind.
"People know I wear a lot of hats," she said.
Try a whole bunch of them.
She's also a runner, skier, poet, painter and is learning to fly fish.
"I have too many hobbies," laughed the blue-eyed, blond-haired Marossy. "I've got so many hobbies right now. If I take on anymore, I'd be in big trouble."
And we haven't even mentioned the other hobby she's perhaps most passionate about: Rebuilding cars. Has been since her dad taught her how when she was a little girl growing up in Michigan. Outside, inside, engine, body work and paint. If it needs restoring, she can do it. If it needs repair, let Sarah take charge.
Need proof?
She's the owner of a 1966 Shelby Mustang GT350 and a 1968 Shelby GT500 KR, both rare classics carefully restored to their original beauty.
"My dad wanted a boy, he wanted a son," Marossy said, smiling. "He didn't get a son, he got two daughters so I became the garage monkey."
Much like anything else she does, a darn good one.
It's more evidence yet of her drive to learn, to achieve. Not just for herself, but for others, too.
"I enjoy not being stagnant," the Liberty Lake, Wash., resident said. "You've got to be able to keep going."
Growing up
Marossy was raised in Shelby, Mich., the daughter of Bill and Jeannette Marossy and the sister of Kate.
Her vision as a child wasn't good, and she got her first pair of glasses when she was 12. Her optometrist would later encourage her to consider the field as a career, which she did.
But cars came first.
Her father spent 40 years as a machinist, and was a grease monkey at heart. Restoring cars to their glory days was his second love and he taught what he knew to his daughter, Sarah. Their Saturday mornings involved rebuilding engines, replacing starters, pulling transmissions, fixing dents and painting it, too.
Sarah rebuilt her first Mustang, a '65, with her dad when she was 14 years old.
"We could go out and do these car projects together," she said. "I grew up restoring cars with my dad."
She graduated in 1996 from Baldwin Wallace College, then went on to earn her graduate degree in optometry at Indiana University. Then, she headed West, eventually making her way to the Lake City.
She knew right off she liked optometry because it gave her a chance to meet and help people.
"I like having a positive, immediate impact on somebody," she said.
Vision Quest
Marossy was "shocked," when she received the national Young Optometrist of the Year for 2010. It's voted on by her peers and it's more for community service than it is about patient care.
"It's for all the other things you do," she said.
Which, in her case, is a lot.
Optometry, she said, is a great profession, but "there's so much more you can do for your community."
So she did.
Marossy founded the Idaho Children's Vision Coalition in 2007, a nonprofit that is an advocate for children's vision. The website offers tools and resources online for screening children. Her efforts have landed nearly $50,000 in grants to do just that.
It is her work with school nurses and the commission on the behalf of kids she particularly enjoys.
"That to me is more rewarding sometime than just showing up at the office," she said.
Idaho, she said, is one of the only states in the country that does not have a law mandating that children receive a basic vision screening in school. Poor eyesight affects a student's ability to learn and study, Sarah says.
"It's a real bummer to see kids go through all the way through high school with significant vision problems." she said. "It causes a lot of other troubles down the road."
The wife of businessman John Hemmingson - they met when he was her patient - fears it can result in students deciding school is too hard, perhaps that they can't do it - a view that Marossy rejects.
"If you have that attitude, look at all the things in our country that never would have happened," she said.
The second-year member of the Idaho Commission for the Blind expects the Legislature to be busy this year, "because Medicare is broke and they're talking about cutting benefits for vision and dental."
"It's going to be a tough political arena in Boise," she said.
Can-do attitude
At 5 feet, 2 inches tall and 100 pounds, Marossy stays fit by spending time in Idaho's outdoors. The longtime runner who competed in high school and college is learning to fly fish.
"I've still got a ways to go," she said, laughing. "Learning how to tie the fly, it's a whole foreign thing for me."
She's also a poet, photographer and artist.
"Those are my stress reliefs," she said.
She and her husband, John, adopted a terrier from the shelter three months ago, and it loves to run with Marossy.
"You can't wear him out," she said.
Sarah and John also brought a rabbit into their family.
"It's a 10-pound rabbit and 17-pound dog. They're pretty close in size and they're friends," she said.
While she's careful to not take on too much, there's little she shies away from. She encourages others to try new challenges and toss out any worries about success rates. Go with your gut.
"You have to find something that works for you," she said.
Still, even for someone like Sarah Marossy, not all is bright for the holidays.
She worries about the impact the worst recession in decades is having on North Idaho families.
"I see it in our patients. The fear, the uncertainty," she said.
But the high-energy, spirited woman won't let that change the optimism and adventure she lives by. She'll continue to follow her dad's lead and see what needs to be done, what she wants to do, and then, do it.
"That's just me," she said. "I've always been that way."
Recent Headlines
---