WSU drives past Baylor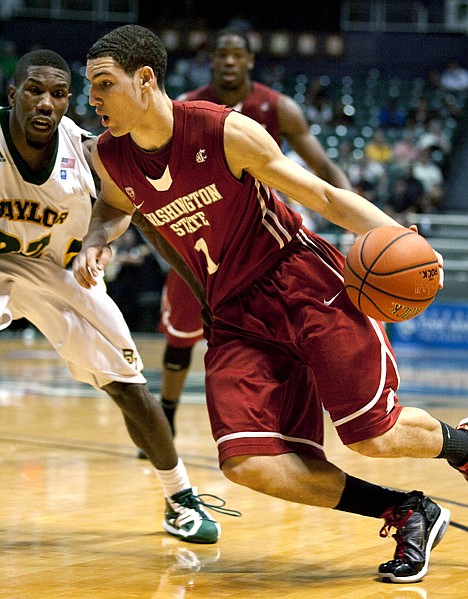 <p>Baylor guard A.J. Walton, left, attempts to cut off Washington State Guard Klay Thompson (1) in the second half at the Diamond Head Classic on Thursday in Honolulu.</p>
by
Jaymes Song
|
December 24, 2010 8:00 PM
HONOLULU - Klay Thompson knows how good Washington State is. He wants others to know, too.
Thompson scored 20 points, including two key 3-pointers down the stretch, and Washington State held on to upset No. 15 Baylor 77-71 in the semifinals of the Diamond Head Classic on Thursday.
"I think this game shows everybody in the country how good we can be. So if we carry this momentum into the Pac-10, we're going to be good," he said.
The Cougars (10-1), who nearly squandered a 20-point second-half lead, withstood a furious rally by the Bears for their fifth straight win. A season-high five players reached double figures for Washington State, which advanced to Saturday's championship game against Butler.
"Last year, we might have folded a little bit, giving up a 20-point lead, we may have let that get to our head," Thompson said. "This year, we've got so many good players and such a close team that when we face adversity like that, we're not going to fold. We're going to stay strong and keep coming at you."
It was Washington State's first win over a ranked opponent since beating No. 14 Arizona State in overtime on Feb. 28, 2009.
Thompson, the son of former No. 1 NBA draft pick Mychal Thompson, made a 3 to give Washington State a 66-64 lead with 4:29 left. He hit another 3 several feet from beyond the top of the key that made it 71-67 with 1:10 to go.
"Huge shot," Washington State coach Ken Bone said. "Great player. Those kinds of players make those shots. That's Klay."
Thompson sealed the win with two free throws with 32 seconds left.
LaceDarius Dunn scored 29 points, all but four in the second half, for the Bears (8-2), while Quincy Acy had 16 points and 12 rebounds.
"I think we just came out and didn't play for 40 minutes. We went down 20 and then waited until the last minute to come back, which is tough to do against a great team," Dunn said. "But in the end, they made a couple tough shots and hats off to them."
After reaching a national ranking of No. 9, the highest in school history, the Bears have lost two of their last three games, and their second in five days. Butler lost to Gonzaga last Saturday.
Down by 20 points, the Bears went on a 29-6 run capped by Dunn's off-balance jumper with 6:49 left to give Baylor a 62-61 lead. It was the first time the Bears led since they had an 8-7 advantage in the opening minutes.
Bone said he talked to his players at halftime about expecting a run from Baylor.
"Hopefully it's not a great one, but it was and they showed why they're such an outstanding team," he said.
Dunn added two free throws giving Baylor a 64-61 lead. That's when the Cougars, behind Thompson's sweet stroke, took over. Thompson was 5 of 8 from the field, and 5 of 6 from beyond the arc.
Thompson scored 28 points in the Cougars' 83-57 win over Mississippi State in the opening round.
Faisal Aden scored 13 points for the Cougars, including a 15-foot baseline jumper that gave them the 20-point lead with 14:29 left. Reggie Moore, Brock Motum and DeAngelo Casto all added 12 points.
Aden's 3-pointer sparked an 11-0 run that pushed the Cougars' lead to 16 in the first half. Baylor responded with a 7-0 run that cut the lead to single digits, but Casto made two straight baskets to give WSU a 39-26 halftime lead.
Baylor missed its first 16 shots from 3-point range. Dunn missed his first 11 before hitting his first 3 with 10:31 left. Another 3-pointer drew Baylor to 68-67 with 1:41 left, but the Bears couldn't get any closer.
"Missing 11 straight, I don't think I've ever done that in my career, but Coach told me to keep shooting and that's what I did," Dunn said.
While the Bears had trouble penetrating WSU's zone defense, the Cougars patiently picked apart Baylor with sharp outside shooting and inside passing.
Washington State shot 57.1 percent from the field while Baylor shot 36.7 percent, including 4 of 22 from 3-point range.
BAYLOR (8-2)
Ellis 0-4 1-2 1, Acy 6-13 4-8 16, P. Jones 4-9 2-2 11, Morgan 1-2 0-1 2, Dennis 0-0 0-0 0, Walton 1-4 4-4 6, Dunn 7-22 12-12 29, A. Jones 3-6 0-0 6. Totals 22-60 23-29 71.
WASHINGTON ST. (10-1)
Capers 1-2 1-3 3, Thompson 5-8 5-7 20, Moore 4-6 2-4 12, Aden 5-9 2-2 13, Motum 6-10 0-0 12, Casto 5-9 2-2 12, Lodwick 2-4 0-0 5, Simon 0-1 0-0 0. Totals 28-49 12-18 77.
Halftime_Washington St. 39-26. 3-Point Goals_Baylor 4-22 (Dunn 3-15, P. Jones 1-1, Walton 0-1, Ellis 0-2, A. Jones 0-3), Washington St. 9-18 (Thompson 5-6, Moore 2-3, Lodwick 1-3, Aden 1-4, Capers 0-1, Simon 0-1). Fouled Out_None. Rebounds_Baylor 40 (Acy 12), Washington St. 26 (Lodwick 8). Assists_Baylor 6 (Walton 5), Washington St. 15 (Moore, Thompson 4). Total Fouls_Baylor 19, Washington St. 21. A_7,179.
Recent Headlines
---