Rust Belt states losing people, political clout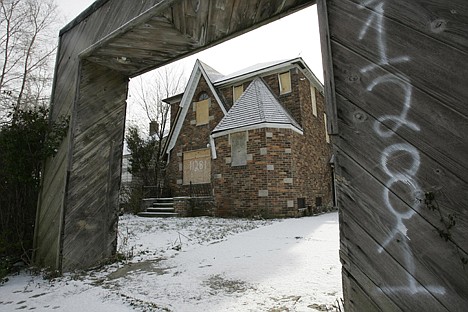 <p>In this Dec. 11, 2008, file photo, an abandoned home is seen in the modest residential neighborhood of Brightmoor in Detroit. Michigan is one of nine states in teh Rust Belt that will lose a House seat in 2012, a trend across the region largely reflecting young people going elsewhere in search of work, causing the northern population to become older.</p>
by
John Flesher
|
December 24, 2010 8:00 PM
TRAVERSE CITY, Mich. - After years of losing residents to more prosperous states, the nation's Rust Belt now confronts another blow to its economic prospects: losing some of its votes in Congress.
The latest census figures show that states in much of the Midwest and Northeast have been overtaken in population growth by the South and West. So starting in 2013, they will have to make do with smaller delegations in Washington, which means less political clout to attract government money and jobs.
"These states in the industrial heartland and to some extent in the Northeast have seen their impact eroded," said Norman Ornstein, a political scientist with the American Enterprise Institute. "It's not totally devastating. . But numbers do matter."
Analysts say the changes will ratchet up pressure on elected leaders to work together more closely and to redouble efforts to strengthen and diversify their state economies.
Michigan was the only state where the population declined over the past decade, but growth across the region was anemic - 3 percent in the Northeast and 4 percent in the Midwest. Population in the South and West shot up nearly four times more. The trend largely reflects young people going elsewhere in search of work, causing the northern population to become older.
Of the 10 states that will lose House seats, all but Louisiana are in the Midwest or Northeast. The affected area includes Rust Belt manufacturing centers along the Great Lakes, as well as farm states like Iowa.
Ohio and New York will forfeit two seats each. Illinois, Iowa, Massachusetts, Michigan, Missouri, New Jersey and Pennsylvania each lose one.
It's a setback for a region that has long held considerable political power. When New York's House delegation declines to 27 members, it will be the smallest since 1823.
Diminished representation in Congress can mean less support for regional projects, such as a $5 billion Great Lakes restoration pledged by President Barack Obama during his campaign. Congress approved $475 million last year, but with fewer votes from the region, it may get harder to keep the program going.
Also at stake is influence on a host of policies that can affect the region's economy such as farm subsidies for Missouri and Iowa and mileage standards for Detroit's automobiles. Even location of military installations and awarding of defense contracts can hinge on congressional influence, said Terry Jones, a political scientist at the University of Missouri-St. Louis.
Additionally, more than 140 federal programs distribute money according to census data. Northern states may be able to count on less cash for highway construction, housing loans, education, unemployment insurance, health care and more.
But the damage will be mitigated somewhat by many of the region's congressional veterans who are assuming influential leadership positions.
Incoming House Speaker John Boehner is from Ohio. Rep. Dave Camp of Michigan will lead the tax-writing Ways and Means Committee, and Sander Levin of Michigan will be its ranking Democrat. Another key panel, Energy and Commerce, will be headed by Michigan Republican Fred Upton. Wisconsin's Paul Ryan will lead the Budget Committee.
In the Senate, Michigan's Carl Levin oversees the Armed Services Committee while Debbie Stabenow, also a Michigan Democrat, is the new chairwoman of the Agriculture Committee. Sen. Charles Schumer of New York heads the Rules Committee.
The Northeast and Midwest are likely to remain crucial players in presidential politics, analysts said. Both parties remain highly competitive in most of the region, so candidates will have to devote attention to them, said Chris Whatley, Washington director of the Council of State Governments.
"The road to the White House still goes right through Ohio," said Chris Redfern, the state's Democratic chairman.
Back in state capitals, governors and legislators will grapple over how to reverse their economic and population declines.
Incoming Gov. Scott Walker recently proposed phasing out taxes on retirement income and even throwing "welcome back" parties in states such as Florida and Arizona to persuade Wisconsin retirees to return.
But analysts said it would take considerably more to make the Northeast and Midwest more attractive for seniors - and, more important, for young adults trying to build careers and start families.
Public officials can't do anything about the weather, but they can improve the business climate, said Dana Johnson, Chicago-based chief economist for Comerica Bank.
"The reality is that businesses have tended to move to parts of the country where regulation is less intense, taxes can be lower and the union tradition is less prevalent," Johnson said.
Northern states also should improve roads and other infrastructure while providing a better-educated work force for a manufacturing sector that increasingly will need skilled employees, he said.
But others say spending on public works projects such as the Great Lakes restoration also boosts the economy.
Dismantling health and environmental regulations would diminish the quality of life and natural resources that draw many people to the Northeast and Midwest, said Jordan Lubetkin, spokesman for the National Wildlife Federation's Great Lakes office.
"That's a race to the bottom that no one wins," Lubetkin said.
Recent Headlines
---