Portman makes spectacular transformation in 'Black Swan'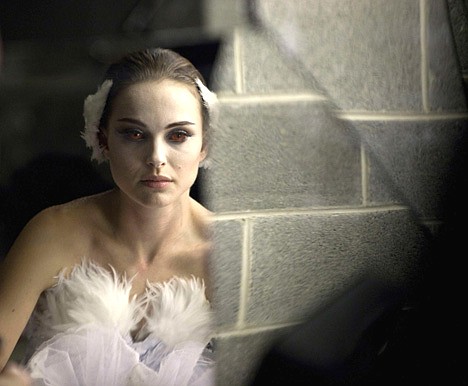 <p>In this film publicity image released by Fox Searchlight, Natalie Portman is shown in a scene from "Black Swan."</p>
by
Tyler Wilson
|
December 24, 2010 8:00 PM
Darren Aronofsky's "Black Swan" mixes the classic beauty of ballet with the disturbing imagery of a sudden and debilitating mental illness.
Natalie Portman agonized through months of rigorous training to play Nina, a veteran dancer who unravels emotionally after she earns the coveted lead in "Swan Lake." She's got the innocence of the Swan Queen, but her director (Vincent Cassel) doesn't believe the dancer can handle the seductive danger of The Black Queen.
Enter rival Mila Kunis and the forceful hand of an overbearing mother (Barbara Hershey), and Nina starts tripping out, first noticing some especially scary stuff in the mirror.
Nina's mental breakdown stretches the plotting of "Black Swan" into repetitive oblivion, but through those occasional plot missteps shines Portman's unforgettable performance. The physicality of the role is a marvel, and her descent into insanity remains believable even as she literally begins transforming into a giant bird.
It might be best to carve her name on the Oscar statue right now.
Grade:
Black Swan: A-
Ticket Stubs is sponsored by the Hayden Cinema 6 Theater. Tyler Wilson can be reached at twilson@cdapress.com. Read more film reviews and pop culture commentary at www.NormdogEntertainment.com.
Recent Headlines
---