Leach to retire; Chaney appointed as undersheriff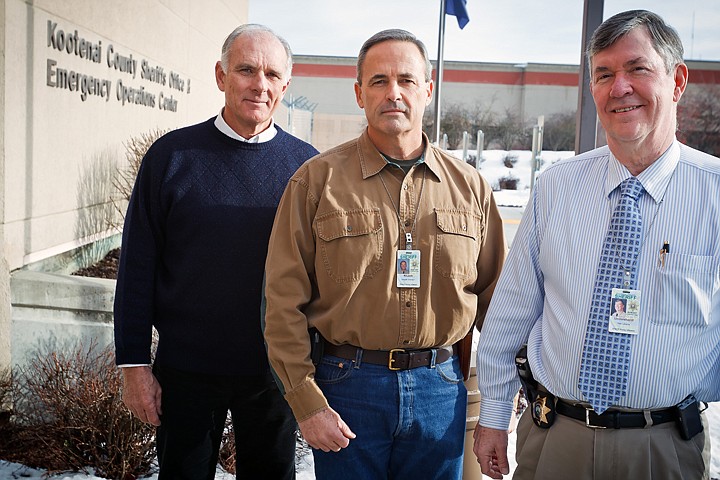 <p>Tad Leach, the Kootenai County undersheriff, right, will retire in April and will be succeeded by Major Travis Chaney, center, commander of the Kootenai County jail. Also photographed is Kootenai County Sheriff Rocky Watson.</p>
by
David Cole
|
December 24, 2010 8:00 PM
COEUR d'ALENE - Kootenai County Undersheriff Edward "Tad" Leach, who has been handling day-to-day operations for the department for the last four years, has announced he will be retiring. He last day will be April 20.
"To finish up a career here is truly a privilege and honor," said Leach, who will be 65 years old when he calls it quits. He started as undersheriff in April 2007.
Sheriff Rocky Watson said, "(Leach) came in at an important time. He's accomplished a lot and he's started a lot."
Leach has made strides replacing patrol cars, getting deputies more practical uniforms, and equipping them with new rifles. He's in the process of getting new handguns.
He said his one disappoint is not being able to get larger and more modern facilities for the department. Watson said the size of the department has tripled since the current facility was built in the early 1980s.
Maj. Travis Chaney, the department's jail commander, has been selected by Watson to take on the undersheriff post. Leach said he's more comfortable leaving his position knowing Chaney's experience and ability.
"I have big shoes to fill," said Chaney, 57, of Post Falls.
The department has a budget of more than $23 million, with 286 full-time employees.
Watson said Chaney has the skills, talent and experience the department needs now.
"He's groomed himself to be in this position," Watson said.
Watson said he's keeping his options open for another run at sheriff in a couple years.
Chaney was hired by Watson in 1978 as a patrol deputy. He began his career a year earlier as a reserve deputy.
Since then, Chaney has served as commander for all three of the sheriff's bureaus: The jail; operations, which includes patrol and detective divisions; and support services, which includes records, communications, and civil and driver's license divisions.
Chaney also has served as a member of the dive rescue team and special weapons and tactics team (SWAT). He was SWAT commander. He's also a graduate of the FBI national academy.
Chaney was uniform incident commander of the Groene investigation and the civil trial for the Aryan Nations.
Leach was a part-time instructor for the law enforcement program at North Idaho College from 2006 to 2008.
He was chief and deputy chief of the Lincolnwood Police Department in Illinois. He was chief from 1989 to 1993.
He started his career in 1971 with the Wheeling Police Department, which also is in Illinois.
He works as a law enforcement consultant and an expert witness in court cases.
Leach plans to stay in the area and spend more time with his wife, Sue, he said. They are celebrating their 45-year wedding anniversary in March.
Recent Headlines
---