Carousel could come full circle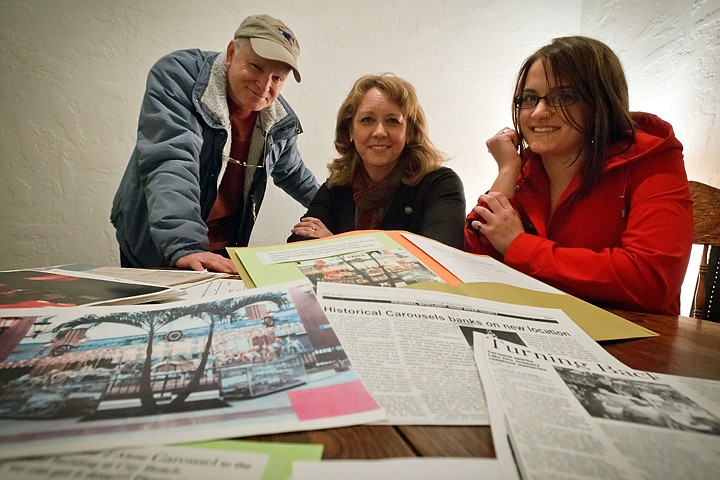 <p>Richard LeFrancis, Julie Clark and Kathryn Manning have formed a committee to help bring back a carousel to the Coeur d'Alene City Park area. They began collecting signatures on a petition Wednesday.</p>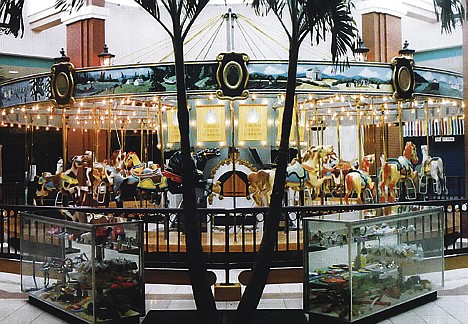 <p>The Coeur d'Alene Carousel spent time in the Virginia Center Commons Mall in Virginia. Its Oregon owner wants the 20-horse machine back in Coeur d'Alene.</p>
Previous
Next
by
Tom Hasslinger
|
December 24, 2010 8:00 PM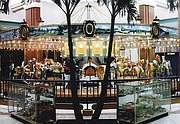 COEUR d'ALENE - Coeur d'Alene's 90-year old carousel is tucked away safely in storage.
Round and round the ride has gone - from its former home at Playland Pier near Independence Point in the 1940, '50s and '60s, to visits to Canada, Virginia, and finally Hood River, Ore., where it's stashed and protected, waiting for a new home.
Its owner, the Perron family, wants to kick the dust off a decade-old deal that tried to bring the historical ride back to Coeur d'Alene.
"Mrs. Perron wants it to go home," said Duane Perron of the ride, one of only 100 left in the world. "And I support her on this."
This time around, there wouldn't be as many stipulations to the deal.
No lease agreement, no location requirements, Duane Perron wants to sell the ride outright, so it can return to its Lake City roots.
The city of Coeur d'Alene said it wouldn't hurt talking about it. Post Falls, meanwhile, said it would take the ride if its neighbor doesn't.
Either way, it would likely take a pool of supporters besides the cities - both financially and strategically - to make it happen.
The 20-horse machine, originally made in New York in the 1920 during the golden age of carousels, was a staple at Playland Pier from the 1940s through the 1970s, the city's old lakeside amusement park. Today, fully restored, with North Idaho landscapes painted across its top, it's one of only 100 left in the world, sitting in storage with the Perron family, who own 21 of the remaining carousels and began the International Museum of Carousel Art in Hood River.
"I think there are people in the community who are very interested in the idea because of its history," said Mayor Sandi Bloem. "If that interest is there then I think that people who have that passion should investigate" how to make the return possible.
It wouldn't be the first time.
A homecoming movement began after a Coeur d'Alene resident spotted the restored carousel in a shopping mall in Virginia in the late 1990s. It was traced back to the Perron family in Oregon, and a reunion looked to be in the cards.
Duane's wife, Carol Perron - who bought the carousel in the late 1970s - is from Coeur d'Alene and had worked at Playland Pier. The would-be deal required a $150,000 a year lease for the machine, while being housed in a building southeast of the Museum of North Idaho.
It fell through. Or never really got off the ground. A citizen's committee had been formed to explore it, but newspaper articles said financial and logistical problems stood in the way.
"We were surprised that Coeur d'Alene, with the type of resources it has, with the type of beauty it has, couldn't find a way to bring it home," Duane Perron said.
This time it doesn't matter where it goes, so long if it's in Coeur d'Alene, he said. The machine, he said, could be worth around $500,000. If the carousel doesn't end up in North Idaho, it would likely go to an auction house in New York. The Perrons are building a new museum, and Coeur d'Alene's carousel isn't making the cut there, so it needs to go.
But the city doesn't have room in its budget. It would take outside help to get it, and put a roof over its head, officials said. The building needed to protect the carousel could prevent the carousel from being part of McEuen Field project as well, Bloem said.
"We're not looking at buildings, per say, so I don't know if it could fit," she said.
Supporter Richard LeFrancis said that shouldn't stop the community from exploring all of its options. He points to Spokane's 1909 Looff Carrousel as an example of a successful tourist attraction and economic engine. The 60-horse machine gives 300,000 rides per year. LeFrancis was onboard with bringing the carousel back 10 years ago, and is spearheading the campaign now. He said the historical tourist attraction fits in with the downtown's redeveloped core. He's collecting signatures he plans to present to the McEuen Field open house Jan. 6.
"It's right here," LeFrancis said of the opportunity. "Everyone can talk a blue streak about what happened then, but it's about what can happen now."
In 1973, Coeur d'Alene began phasing out Playland Pier as the city began improvements to City Park. Buildings were vacated in 1974, then on Dec. 18, 1975, they were completely destroyed by a suspicious fire, according to local historian Robert Singletary.
Post Falls Mayor Clay Larkin said his city would be interested in returning the carousel to North Idaho, if a Lake City deal isn't reached.
"It can be an absolute year round tourist attraction," he said. We'll just keep our ear to the ground."
Recent Headlines
---