Rose the constant in Penn State's 4 straight NCAA volleyball titles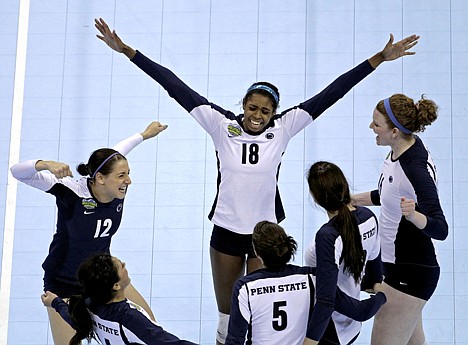 <p>Penn State players celebrate en route to beating California in the NCAA Division I volleyball championship match Saturday in Kansas City, Mo.</p>
by
Eric Olson
|
December 20, 2010 8:00 PM
KANSAS CITY, Mo. - Penn State's Russ Rose makes it sound so simple, winning those four straight national championships in women's volleyball.
"I don't think we're training any different than people," the longtime Nittany Lions' coach said, "but there are some levels of expectations, and the older kids understand it and the younger kids understand it, and that's what we're doing at Penn State."
The Nittany Lions' run to another title, completed Saturday night with a three-set sweep of California, has been overshadowed by Connecticut's domination of women's basketball.
Penn State (32-5) is the only Division I volleyball program to have strung together more than two titles and boasted an NCAA-record 109-match win streak before losing to Stanford in September.
Rose's volleyball program has reached the point where anything less than winning, and winning championships, is a surprise. The Lions are that good, even in a year when they took their lumps early after having to break in a new setter and replace Megan Hodge, one of the greatest players in the history of the college game.
A total of 34 athletes have been part of Penn State's championship teams from 2007-10. Only three of them - Blair Brown, Arielle Wilson and Alyssa D'Errico - have been members of all four.
The players come and go. The constant is the 57-year-old Rose, a Chicago native who has been coaching since the mid-1970s, wrote his master's thesis at Nebraska on volleyball statistics and took over at Penn State in 1979.
"Penn State's done it," Rose said. "I've been the coach, but Penn State's really why it's happened. I've had terrific support."
Rose and Hawaii's Dave Shoji are the only Division I volleyball coaches with more than 1,000 career wins, and Rose is the only one with five national championships. His first came in 1999, after his teams had been national runner-up three of the six previous years.
Cal coach Rich Feller, who has known Rose for three decades and has lost to him four straight years in the postseason, said Rose has an eye for talent and an ability to make a good player great.
"He knows what he wants out of a recruit," Feller said. "He goes out and gets the ones that fit his system. He's probably a little bit like the Bobby Knight. If you are willing to do it his way - probably not quite like that - but if you're willing to do it his way, you're going to play well."
Wilson finished her career with a Division I-record .468 hitting percentage.
"You usually come in not knowing what you can do, and by the time you leave here, it's like, 'Wow, I didn't know I had that in me,'" Wilson said.
Recent Headlines
---