Dirty third
by
Tim Booth
|
December 20, 2010 8:00 PM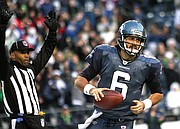 SEATTLE - After nearly a month away, Matt Ryan and the Atlanta Falcons are finally coming back home.
They've already clinched a playoff spot, and won't need to book another road trip until the Super Bowl with one more win.
"It's special," wide receiver Roddy White said. "We have a special group around here."
Ryan threw three touchdown passes, Jonathan Babineaux recovered a fumble for a score, and the Falcons wrapped up their spot in the postseason with a 34-18 win over the Seattle Seahawks on Sunday.
Ryan and the Falcons (12-2) got a few breaks from the officials, some fortunate bounces and three mistakes by Seattle quarterback Matt Hasselbeck to win their eighth straight game, the longest win streak for Atlanta since 1998.
And they closed out a brutal stretch of three straight road games and four in five weeks by again staking claim to being the best team in the NFC, beyond just owning the best record.
Now the Falcons get to come home next Monday night against NFC South rival New Orleans with the opportunity to clinch home-field advantage throughout the NFC playoffs and their first division title since 2004.
"It is going to be a great atmosphere in the Dome next week," Ryan said. "I think everybody is looking forward to it."
Ryan tossed a pair of touchdowns in the first half, including a 24-yarder to Michael Jenkins in the final minute for a 17-10 lead. He finished 20 of 35 for 174 yards with one interception, while Michael Turner added 82 yards rushing.
And Ryan avoided making any crucial mistakes, unlike Hasselbeck.
Stuck in a stretch of making costly turnovers, none was bigger than Hasselbeck's fumble on Seattle's first offensive play of the second half. Hasselbeck failed to get rid of the ball in his end zone, was sacked by Jamaal Anderson and fumbled. At the bottom of the pile was Babineaux, and the score gave the Falcons a 24-10 lead.
Hasselbeck followed with interceptions on Seattle's next two series and was eventually replaced by Charlie Whitehurst. Hasselbeck now has 13 turnovers - 10 interceptions and three fumbles - in Seattle's last four games. Hasselbeck's 28.9 passer rating was the second-lowest of his career.
"Looking back, I seem to do stupid things when we're losing," Hasselbeck said.
Seattle (6-8) coach Pete Carroll was noncommittal afterward, saying he wanted to examine the QBs this week before deciding on the starter against Tampa Bay. Despite dropping six of eight, the Seahawks remained tied with St. Louis on top of the NFC West with the pair set to meet Jan. 2 in Seattle.
"Matt's been our starter all the way through, he's put us in position at this time and it seems to me that that's really important for us to understand that," Carroll said.
Anderson appeared to get away with a facemask on Hasselbeck's fumble, and both Hasselbeck and Carroll screamed at referee Walt Coleman. Anderson described it as "brushing" Hasselbeck's facemask.
Whatever the description, it was a huge play and a potential 14-point swing. Hasselbeck thought Ben Obomanu was open deep for a big play if he avoided Anderson.
"It was a great feeling, first career touchdown," said Babineaux, whose brother Jordan plays for the Seahawks and intercepted Ryan in the first half. "The opportunity came for me to fall on the ball. It was such a great feeling."
The no-call continued a trend of breaks for Atlanta that started on the Falcons' first drive when it appeared Ryan got a pair of fortunate spots on third and fourth down runs. Ryan capped the drive with a 3-yard touchdown pass to Jason Snelling.
Snelling later fumbled on consecutive plays, the first one falling right to Brian Finneran, the second scooped up by White and good enough for a first down. Those recoveries eventually led to a 27-yard field goal by Matt Bryant.
Ryan then hit Jenkins for the go-ahead score, picking on backup cornerback Kennard Cox after Seattle's Marcus Trufant left with a back injury. Carroll said afterward that Trufant had back spasms.
"When we seen him out there, we just go after him," said White, who beat Cox on a 15-yard third-down catch to keep the drive going. "In this league, you look for mismatches and when you get them, you take advantage of them."
White added a 5-yard TD in the third quarter, part of his seven catches that raised his league-leading total to 106. Tony Gonzalez caught four passes, giving him 62 for the season and setting a league record with his 12th straight season with at least 60 receptions.
Amazingly, Seattle (6-8) could still join Atlanta in the playoffs, not that either the Seahawks or Rams probably deserve the playoff berth and home game.
Seattle was nearly perfect on its opening drive in taking a 7-0 lead on Marshawn Lynch's 1-yard plunge and from there did little right.
Whitehurst was greeted with cheers and chants of "Char-lie!" after scoring on a 1-yard TD run in the fourth quarter. Hasselbeck finished 10 of 17 for 71 yards and has tied his career-high with 17 interceptions this season. Whitehurst finished 8 of 16 for 83 yards.
"Not much is going to change," Whitehurst said. "Everybody goes in and works as hard as they can every week and the coaches make the decisions. So I don't see it changing much."
Notes: Seattle DT Junior Siavii also left in the fourth quarter with a stinger after a hard collision with Turner. ... Atlanta CB Brent Grimes grabbed Hasselbeck's first interception, then tipped Hasselbeck's second pick that was grabbed by S William Moore. ... Two-time NL Cy Young winner Tim Lincecum raised the "12th Man" flag before Sunday's game.
Recent Headlines
---