Baltimore snaps Saints' 6-game streak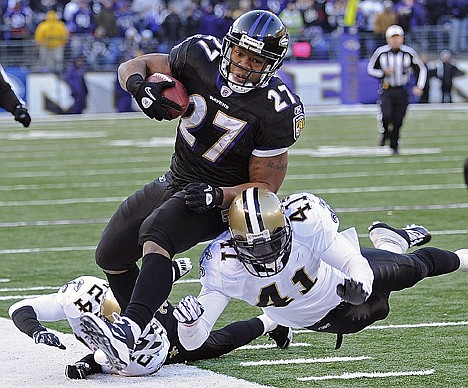 <p>Baltimore running back Ray Rice (27) is knocked out of bounds by New Orleans cornerback Leigh Torrence, left, and safety Roman Harper during Sunday's game in Baltimore. The Ravens won 30-24.</p>
|
December 20, 2010 8:00 PM
Ray Rice ran for 153 yards and scored two touchdowns, and the host Baltimore Ravens ended the New Orleans Saints' (10-4) six-game winning streak with a 30-24 win on Sunday.
The Ravens (10-4) won by reviving their lagging running game and managing to hold onto a fourth-quarter lead.
Coming into the game, Rice hadn't had a run of more than 30 yards and reached the 100-yard mark only once. He had a 50-yard run in the fourth quarter and finished with his biggest rushing total since a 154-yard game last year against Cleveland.
Rice scored on a 10-yard run and caught a 17-yard pass from Joe Flacco.
Drew Brees went 29 for 46 for 267 yards for the Saints. The defending Super Bowl champions had not lost since Oct. 24 and scored at least 30 points in five straight games.
Eagles 38, Giants 31: At East Rutherford, N.J., DeSean Jackson scored on a 65-yard punt return on the final play of the game and Philadelphia (10-4) scored 28 points in the final 7:28 to stun New York (9-5) and take over first place in the NFC East.
Emphasizing his candidacy for the MVP award, Michael Vick threw for two touchdowns and ran for another in the incredible late rally that all but clinched the division for the Eagles and left Giants coach Tom Coughlin so angry he threw his notes as Jackson backed into the end zone.
Atlanta clinched a playoff spot with the Giants' loss.
Colts 34, Jaguars 24: Peyton Manning threw two touchdown passes and Donald Brown ran for another score as host Indianapolis (8-6) stayed in the playoff hunt with a win over Jacksonville (8-6).
The Colts share the AFC South lead with Jacksonville and can clinch a seventh division title in eight years by winning their last two games.
Manning was 29 of 39 for 229 yards with no interceptions for the second straight game.
Bills 17, Dolphins 14: Ryan Fitzpatrick threw two touchdown passes and visiting Buffalo (4-10) eliminated Miami (7-7) from playoff contention.
Buffalo looked woeful in a season-opening loss at home against Miami, but that was before Fitzpatrick took over at quarterback. He went 16 for 26 for 223 yards in the rematch.
Bengals 19, Browns 17: Cedric Benson ran for a season-high 150 yards and a touchdown, and host Cincinnati (3-11) ended a 10-game losing streak by beating Cleveland (5-9).
The Bengals hadn't won since Sept. 26, a streak longer then even "The T.Ocho Show" featuring their two attention-loving receivers. Terrell Owens was on the sideline with a knee injury for the long-awaited win.
Lions 23, Buccaneers, 20 OT: At Tampa, Fla., Dave Rayner's third field goal, a 34-yarder with 9:51 left in overtime allowed Detroit (4-10) to beat Tampa Bay (8-6), ending the longest road losing streak in NFL history at 26 games.
Rayner kicked a 28-yarder as time expired in regulation to force the extra period. The Lions took the overtime kickoff and drove 63 yards - covering most of the distance on two big runs and a 12-yard reception by Calvin Johnson on third-and-8 - to set up the game-winner.
Panthers 19, Cardinals 12: At Charlotte, N.C., Jimmy Clausen outplayed John Skelton in a matchup of rookie quarterbacks, John Kasay kicked four field goals, and Carolina (2-12) snapped a seven-game losing streak by beating Arizona (4-10).
Clausen threw only his second TD pass of the season in his first win in eight starts. Titans 31, Texans 17: At Nashville, Tenn., Kerry Collins threw for two touchdowns and 237 yards and Chris Johnson ran for a TD and 130 yards as Tennessee (6-8) beat Houston (5-9).
With the win and Indianapolis downing Jacksonville 34-24, the Titans keep their slim playoff hopes alive.
The Texans have lost seven of their last eight and never really were in this one.
Cowboys 33, Redskins 30: At Arlington, Texas, David Buehler made a 39-yard field goal with 50 seconds left, giving Dallas (5-9) a win over Washington (5-9).
Washington lost its fourth straight and sixth in the last seven. New starting quarterback Rex Grossman - replacing Donovan McNabb - tied his career-high with four touchdown passes, but the game ended with him throwing an interception.Chiefs 17, Rams 13: Matt Cassel returned to the lineup 11 days after an emergency appendectomy and threw a touchdown pass in leading visiting Kansas City (9-5) over St. Louis (6-8).
Jamaal Charles scored on a short run and helped clinch it with a late 80-yard burst for the Chiefs, who retained a one-game lead over the Chargers in the AFC West.
The Rams remained tied with Seattle at the top of the NFC West.
Raiders 39, Broncos 23: Jason Campbell threw a 73-yard touchdown pass to Marcel Reece and Jacoby Ford scored on a 71-yard run to help host Oakland (7-7) overcome Tim Tebow's two long touchdowns in his first career start and beat Denver (3-11).
Michael Bush added two short touchdown runs to keep the Raiders in the hunt for a playoff berth for at least one more week.
Jets 22, Steelers 17: Mark Sanchez stood up to the pressure created by host Pittsburgh's defense and his team's two-game losing streak, scrambling for New York's first offensive touchdown in 12 quarters and leading a decisive field-goal drive as the Jets (10-4) beat the Steelers (10-4).
Despite losing, the Steelers were told by the NFL nearly an hour after the game ended that they secured a playoff spot via a series of complicated tiebreakers.
Patriots 31, Packers 27: At Foxborough, Mass., Dan Connolly rumbled 71 yards with what is believed to be the longest kickoff return by an offensive lineman in NFL history, Tom Brady threw two touchdown passes and New England (12-2) edged Green Bay (8-6) for its sixth straight win.
Aaron Rodgers missed the game with a concussion, and Matt Flynn threw his first three pro touchdown passes in his place.
Recent Headlines
---