Snow grounds 800 flights across Europe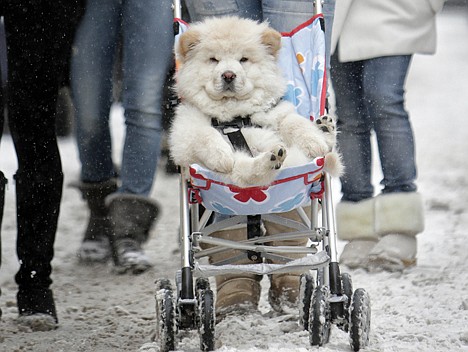 <p>A husky puppy is transported in a child's push chair, on a snowy street downtown Bucharest, Romania, Friday. Southern Romania is affected by snowfalls with traffic problems reported on many roads.</p>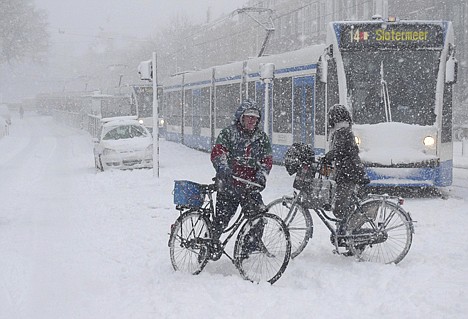 <p>A line of stranded trams is seen as bicyclists try to cross the road in heavy snow in Amsterdam, Friday. The Dutch association of motorists, ANWB, the equivalent of AAA, called the traffic situation in the Netherlands "chaotic."</p>
Previous
Next
by
Juergen Baetz
|
December 18, 2010 8:00 PM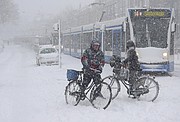 BERLIN - Heavy overnight snowfall disrupted air travel across western Europe Friday, forcing more than 800 flight cancellations and leading to major delays in Germany, the Netherlands and Switzerland.
Germany appeared the hardest hit by the snow, with more than 600 flights canceled, schools forced to close and highways clogged with traffic after scores of accidents that killed at least three people and injured dozens.
Snow also hindered flights in the neighboring Netherlands, where Amsterdam's Schiphol Airport saw more than 100 cancellations and major delays ahead of the busy Christmas holiday season, spokeswoman Mirjam Snoerwang said.
The European control agency eurocontrol said passengers at Schiphol, one of continental Europe's busiest airports, had to expect delays of up to 4 1/2 hours.
Moreover, many passengers whose flights were canceled had their misery compounded by train and bus traffic also being hit hard by the snow, stranding them in Schiphol's terminal buildings.
Dutch weather agency KNMI issued a "weather alarm" warning of heavy snowfall and lethal driving conditions in large parts of the western Netherlands as traffic jams grew around major cities of Amsterdam, Rotterdam and The Hague.
Snow also forced the cancellation of about 100 flights in Switzerland, where Geneva's airport was closed early Friday morning, though it was open again by midmorning, and flights were also disrupted in Zurich.
In Frankfurt, continental Europe's second-biggest hub, 470 flights had been canceled by late afternoon, airport spokesman Gunnar Scheunemann said. The airport had to be closed for about an hour late Thursday, and an estimated 1,000 passengers were stranded overnight.
About 8 inches of snow blanketed the state overnight, also causing the closure of schools around Frankfurt and elsewhere in Hesse.
Munich airport, Germany's second-largest, reported 113 cancellations and major delays; Duesseldorf and Stuttgart saw more than 20 cancelations each.
Roads were clogged, and in North-Rhine Westphalia state alone authorities reported traffic jams of more than 185 kilometers (115 miles) on highways, and 251 weather-related accidents that left 19 people injured.
Officials in the southern state of Baden-Wuerttemberg said there were 108 weather-related accidents that left 17 people injured.
Two men died in a traffic accident in the southern state of Bavaria, according to authorities. The men, 54 and 44 years old, were trying to help a friend pull his car out of snow near Straubing late Thursday when they were struck by an oncoming car, police said in a statement. In Hesse state a 40-year-old woman died in a pileup on a highway near Frankfurt, police added.
A wave of snow and icy weather was also causing travel problems across Britain, with trains canceled, schools shut and cars sliding on icy roads.
One motorist in the Scottish city of Aberdeen, Kirsty McCullogh, told BBC radio it had taken her five hours to drive 4 miles.
"It's absolutely awful, the roads are sheet ice - they've not been gritted at all," she said.
Belfast International Airport was closed Friday morning because of snow, and there were delays and cancellations at other airports including Aberdeen, Birmingham and Luton.
Switzerland's main airport in Zurich also reported delays, and a total of 84 flights were canceled, spokeswoman Sonja Zoechling said. Geneva saw about 20 flight cancellations.
The Italian island of Capri, meanwhile, woke up to its first snowfall in 25 years, said Luciano Garofano, an official in the mayor's office. Street cleaners in the chic tourist destination in the Gulf of Naples doused the town's streets with boiling water to melt the ice. Snow also coated beaches on the neighboring island of Ischia, whose thermal waters attract visitors all year round.
In Denmark, the state postal service reported snow in the past weeks has caused a high number of injuries to the country's 12,000 letter carriers - including broken limbs.
PostDanmark reported 355 carriers have so far been injured since November - compared with a total of 450 during last year's entire winter, the B.T. newspaper reported.
The postal service has acknowledged that the snow may delay Christmas letters - and most importantly - parcels with presents.
Even where snow is desperately needed, too much of it proved to be a curse: The women's World Cup super-G downhill skiing event in Val d'Isere in southeastern France was called off due to too heavy snowfall overnight and Friday morning.
Recent Headlines
---