Bears orphaned after fatal attack debut at zoo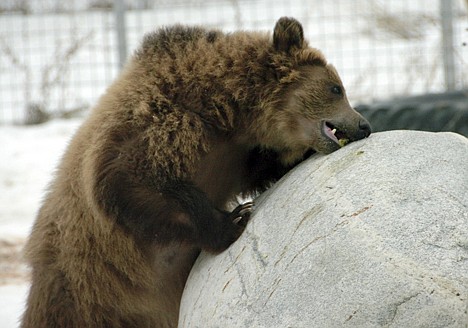 <p>A young grizzly bear rubs against a rock at ZooMontana in Billings, Mont., on Friday. The bears were given to the zoo after their mother led the animals on a summer rampage through a Montana campground that killed one person and injured two more.</p>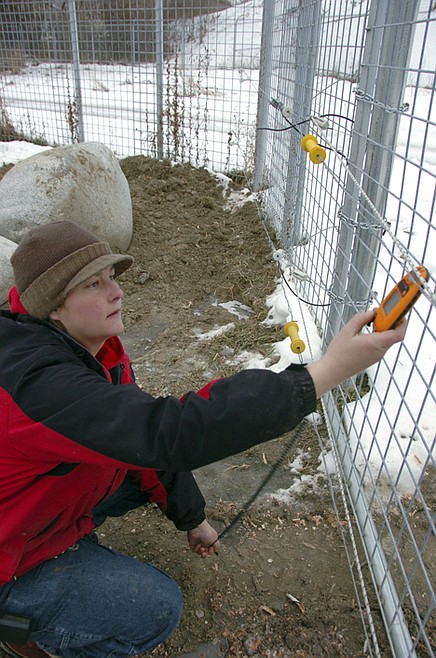 <p>Krystal Whetham, senior zookeeper at ZooMontana, checks the electric fence around the bear enclosure on Friday before releasing three young grizzly bears into the exhibit.</p>
Previous
Next
by
Matthew Brown
|
December 18, 2010 8:00 PM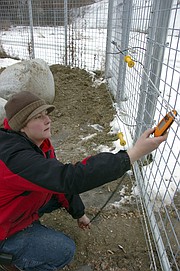 BILLINGS, Mont. - They will never escape their savage backstory, but three young bears whose mother led them on a rampage through a Montana campground embarked on a new career Friday: fuzzy zoo attractions.
As a posse of preschoolers pressed close as the glass would allow, the three grizzlies - now Dolly, Loulou and Koda - nosed around their new two-acre spread at ZooMontana.
Wildlife officials euthanized the bears' mother in July, after the bruin family was trapped in the wake of a rare late-night attack outside Yellowstone National Park. A Michigan man was killed and two people were injured.
The young - now almost 2 years old - were with the marauding sow bear, but their precise role remains unknown. Investigators concluded the mother was leading her young to food.
Now, after five months in quarantine, the bears are taking their first forays this week around their enclave in Billings. The zoo is about 125 miles from the site of the attacks, a streamside campground near Cooke City.
Friday's visit by the zoo's on-site preschool class was the largest audience so far. Public exhibitions will start in two to three weeks.
As they adjust to their new life inside an electrified fence, the bears are showing themselves little different from any other confined wild creatures, zoo representatives said.
"I'm teaching them how to scrounge for food," ZooMontana senior keeper Krystal Whetham said as the animals dug around for fruit hidden in their snowy enclosure. "They never will be in any kind of situation where they will have a conflict with people."
That sentiment was shared by the federal grizzly biologist who authorized the bears' removal from the wild amid speculation they, too, might be euthanized. Chris Servheen with the U.S. Fish and Wildlife Service said the bears' previous behavior was "irrelevant" in a zoo setting.
A witness to the attacks said Friday he agreed with the young bears' placement in captivity. Roland Flemming of Alamosa, Colo., said the animals "deserved a chance."
"Since it was my daughters' boyfriend that got bit, you would think I would say they ought to have been put down," Flemming said. "But they wouldn't have been there if it wasn't for the mama."
The bears are still skittish. But after showing up scraggly and emaciated they are now rounded in the belly and thick with fur.
On Friday, Dolly and Loulou eventually inched close enough to get a good look at the children. Koda kept his distance, ducking into the bears' heated enclosure whenever someone made a sudden move.
Recent Headlines
---