Embedded video on T-shirts promotes school activities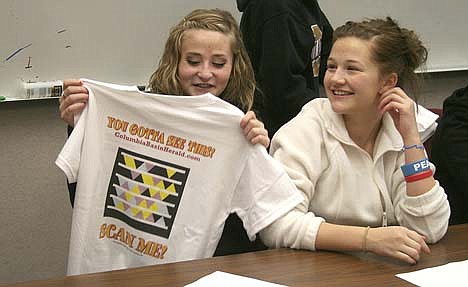 <p>Moses Lake High School students check out video T-shirts.</p>
by
Lynne Lynch & Shantra Hannibal
|
December 17, 2010 8:00 PM
MOSES LAKE, Wash. - Video embedded on a T-shirt? Sounds crazy.
It's not. It's happening already.
Equipped with a smart phone and the proper application, anyone can scan the Microsoft tag on T-shirts recently given to Moses Lake High School students and watch a 20-minute video on Chief athletes.
Moses Lake High School drill team members were the first to receive the T-shirts.
The video is posted on the Columbia Basin Herald website and includes practice footage, interviews and will be updated with Chiefs' athletic happenings.
"The T-shirts will wear out before the video does," says Kody Johnson, Internet and business development manager at the Columbia Basin Herald. "This helps the public know there are other applications for this."
Connecting to the video simply requires smart phone users to stand close enough to scan the graphic on the T-shirt's back.
Johnson says he hopes the T-shirts, which read "Scan Me!" on the front, will spark conversation among students.
"It's unusual," Johnson says, "It's a weird looking tag. You can't help but ask, what is that?"
The boys and girls basketball teams and wrestlers are slated to receive the T-shirts too.
"This is so cool," Junior Nicole Heroux said as she held up her T-shirt for team members to scan.
The T-shirts will help spread the word about teams' efforts and although drill team members scrutinized their performances and facial expressions in the posted video, most thought it was a good idea.
Coach Rosalie Black says people can see how hard the drill team is working.
"State is our goal this year," Black says. "We are a really young team, it's pretty much all the girls' first year except Shelby Johnson, the captain."
The 12 girls practice every morning and have recently added evening practices on Tuesdays and Thursdays.
"It's a lot of work," says junior Nicole Heroux. "But it's worth it."
Fans who don't have smart phones can still see the drill team and others working on their skills at www.columbiabasinherald.com
Anyone with a smart phone can download the free tag reader application at gettag.mobi.
"The really cool thing about it is, we didn't think it would be such a big hit," said Johnson. "They thought it was the neatest thing in the world."
To his knowledge, the Herald is the first area business to have the tags printed on clothing.
"It's kind of a sign of the changing times," Johnson commented. "It used to be when athletes were recruited to college, they put a tape together. Now they can just show their T-shirts. This is where this is going."
If the video is changed, you don't have to change the shirt, he explained.
Johnson estimated at least 15 percent of the students he has met had smartphones.
With Christmas nearing, teens are asking for smartphones, he said.
Adults make up about 54 percent of smartphone users, according to an Oct. 8 Columbia Basin Herald article.
The Columbia Basin Herald first used Microsoft tags in October, by having them printed on the Coldwell Banker Tomlinson Ranch and Home Fall Real Estate Guide.
Recent Headlines
---