'The King's Speech' leads obvious Globe field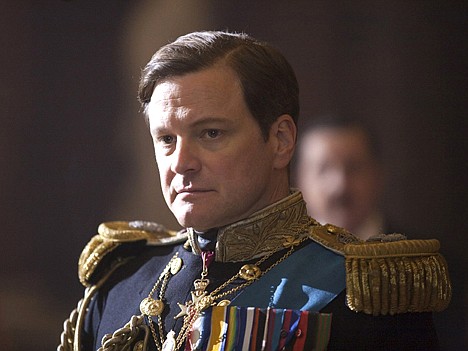 <p>In this film publicity image released by The Weinstein Company, Colin Firth portrays King George VI in "The King's Speech." The film was nominated for a Golden Globe award for best picture, Tuesday, Dec. 14, 2010. The Golden Globe awards will air live Jan. 16 on NBC.</p>
|
December 16, 2010 8:00 PM
LOS ANGELES - "The King's Speech" is precisely the kind of film that has long appealed to awards voters: It's historical, focuses on royalty, depicts a character overcoming physical adversity and features a classy cast.
So it should come as no surprise that it received the most Golden Globe nominations Tuesday with seven, including best picture, on a morning when there were few surprises to be found. The film's director, Tom Hooper, was also among the nominees, as were stars Colin Firth, Geoffrey Rush and Helena Bonham Carter.
Based on the story of how King George VI (Firth) battled a stammer with the help of an unorthodox speech therapist (Rush) just prior to World War II, "The King's Speech" hits all the right notes and does it with impeccable polish. But beneath the flawless production values and period trappings is a relevant story about uplift - always popular come awards time.
Other top nominees were David Fincher's "The Social Network," which traces the origins of Facebook, and David O. Russell's "The Fighter," inspired by the true story of Boston-area boxer "Irish" Micky Ward. Both films received six nominations, including best picture and best director. "The Social Network" has been racking up top honors from critics groups across the country in recent days, including those in New York and Los Angeles.
These may all sound vastly different, but Rush, a supporting-actor nominee, sees a uniting thread among the front-runners.
"When I look at the films that have been nominated and the films that have been emerging through festivals in the last couple of months, it's fascinating to me. Somebody actually did comment online that maybe we're going back to the great old days of the '70s where films had a bit of meat and a bit of bite and a bit of social commentary," he said.
"The themes seem to be, particularly with our film, themes about leadership, communication, friendship - qualities that I think people are yearning for on some kind of grander scale. And that applies to certainly the ones I've seen, like 'The Social Network' or the individual ruggedness through '127 Hours,' it's quite fascinating how these things become the zeitgeist."
The visceral, intimate "127 Hours," based on the true story of a hiker who was trapped beneath a boulder for that duration, has also been a favorite so far, but it only received three Golden Globe nominations: best actor in a drama (James Franco), screenplay and original score. Still, it's been in the mix among awards prognosticators and critics filling out their top-10 lists.
Even some of the wackier picks that had people all worked up Tuesday morning - the flashy but critically panned "Burlesque" and "The Tourist" earning three nominations each, including best musical or comedy - also make some sense historically. Yes, the Hollywood Foreign Press Association, which hands out the awards on Jan. 16, has been more in alignment with Academy Awards voters over the past decade or so. But the group - composed of about 85 critics and reporters for overseas outlets - also likes its international superstars.
And so we have Johnny Depp receiving not one but two nominations, competing against himself as best musical or comedy actor for "Alice in Wonderland" and "The Tourist," and his "Tourist" co-star Angelina Jolie is a best-actress nominee.
"Three Golden Globe nominations for 'The Tourist' is a dream come true," said German director Florian Henckel von Donnersmarck, who was also a Golden Globe nominee and Academy Award winner for his 2007 debut, "The Lives of Others." ''No one is more fun to watch than Johnny and Angelina. They are great artists, and in my book, they deserve every nomination and award on the globe."
Two songs from the guilty-pleasure "Burlesque" were nominated, ones sung by Cher and Christina Aguilera. Other glamorous surprise nominees include Anne Hathaway and Jake Gyllenhaal for "Love and Other Drugs" and Halle Berry for "Frankie and Alice." Meanwhile, the Coen Brothers' acclaimed remake of the Western "True Grit" was oddly shut out.
It's highly unlikely those lighter, frothier titles will surface again when Oscar nominations are announced Jan. 25 - after all, the Golden Globes are divided into drama and musical/comedy categories, so there's room for a wider range of films. If any of the five best comedy nominees is likely to be included among the 10 best-picture slots at the Academy Awards, it's "The Kids Are All Right," starring Annette Bening and Julianne Moore, who were both nominated for playing a lesbian couple.
Still, while the obviousness of the Golden Globes doesn't necessarily make it a surefire Oscar predictor, it can be pretty close. All four acting winners at the Academy Awards this past year had won previously at the Globes. But then there was the behemoth "Avatar," which won at the Globes, while the independent "The Hurt Locker" quietly gathered steam and took home the best-picture Oscar.
One thing that's certain: With Ricky Gervais hosting, and the drinks flowing as always, Golden Globe night will at least be entertaining to watch, even if not all of the nominated films themselves are.
Recent Headlines
---