'Social Network' named best film by LA critics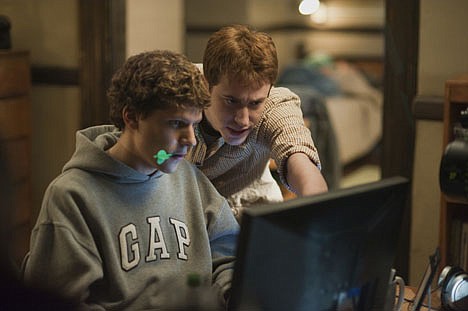 <p>In this publicity image released by Columbia Pictures, Jesse Eisenberg, left, and Joseph Mazzello are shown in a scene from "The Social Network." The American Film Institute named the movie as one of the year's 10 most outstanding films Sunday, Dec. 12, 2010.</p>
by
David Germain
|
December 15, 2010 8:00 PM
LOS ANGELES - The Facebook drama "The Social Network" was picked as the year's best picture Sunday by the influential Los Angeles Film Critics Association.
The group's best-actor prize went to Colin Firth for the British monarchy tale "The King's Speech," while Kim Hye-ja won best actress for the South Korean drama "Mother." The runners-up were Edgar Ramirez for the terrorist epic "Carlos" and Jennifer Lawrence for the Ozarks crime thriller "Winter's Bone."
Overseas crime dramas won the other acting honors: Jacki Weaver as supporting actress for Australia's "Animal Kingdom" and Niels Arestrup as supporting actor for France's "A Prophet." The runners-up were Olivia Williams for the thriller "The Ghost Writer" and Geoffrey Rush for "The King's Speech."
In a tie vote, the directing prize was shared by David Fincher for "The Social Network" and Olivier Assayas for "Carlos," which also was the best-picture runner-up. "Carlos" won for best foreign-language film, and the runner-up was "Mother."
"The Social Network," which stars Jesse Eisenberg as Facebook founder Mark Zuckerberg, won two other honors: Aaron Sorkin earned the best-screenplay prize, while composers Trent Reznor and Atticus Ross shared the award for best musical score with Alexandre Desplat for "The Ghost Writer."
The runner-up for best screenplay was David Seidler for "The King's Speech," which stars Firth as Queen Elizabeth II's father, George VI, as he struggles to overcome a debilitating stammer.
Tom Hanks and Tim Allen's blockbuster "Toy Story 3" was chosen as best animated film, while French filmmaker Sylvain Chomet's "The Illusionist" was runner-up.
Winners, including career-achievement recipient Paul Mazursky, will be honored at a ceremony in Los Angeles on Jan. 15.
Along with the New York Film Critics Circle, which announces its winners Monday, the Los Angeles reviewers' awards are among the key critical picks that help single out potential favorites on the buildup to the Feb. 27 Academy Awards.
"The Social Network" and "The King's Speech" generally are considered the front-runners for the Oscars, whose nominations come out Jan. 25.
Top critics groups usually pick different films, though 2009's "The Hurt Locker" preceded its best-picture win at the Oscars with the same honor from the Los Angeles and New York groups, along with the National Society of Film Critics.
Critics' awards also often go to smaller, even obscure films, though the Los Angeles group went mainstream two years ago and gave its best-picture prize to the animated blockbuster "WALL-E."
Among the group's other awards Sunday:
Cinematography: Matthew Libatique, "Black Swan;" runner-up, Roger Deakins, "True Grit."
Production design: Guy Hendrix Dyas, "Inception;" runner-up, Eve Stewart, "The King's Speech."
Documentary: "Last Train Home;" runner-up, "Exit Through the Gift Shop."
Recent Headlines
---