Low, slow the way to go for speedy dinner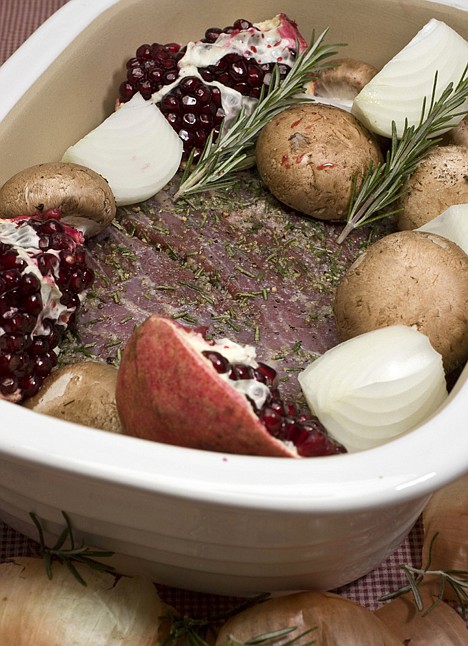 <p>This Nov. 21, 2010 photo shows pomegranate-rosemary brisket with red wine jus in Concord, N.H. If you can spare about 15 minutes a few hours before dinner, you can get this meal on the table with almost no effort.</p>
by
J.M. Hirsch
|
December 15, 2010 8:00 PM
Sometimes low and slow is the best way to deal with a dinner short on time.
The point being that even if dinner takes several hours to cook, if you don't need to do anything to the food during that time, it might as well be a 20-minute meal. And that was the inspiration for this bold and rich roasted brisket with red wine jus.
If you can spare about 15 minutes a few hours before dinner, you can get this meal on the table with almost no effort. Here's how it works.
You start by bashing together fresh rosemary, garlic, salt and black peppercorns. That blend is rubbed over a brisket, which then is placed in a large Dutch oven. The meat is surrounded by mushroom caps, a quartered onion and a quartered pomegranate. Pop it in the oven and walk away.
When the brisket is done, you set it onto a plate to rest, spoon the mushrooms around it, then strain the liquid in the pot. And that's about it. The pomegranate breaks down during cooking, lending a deliciously tart-sweet flavor that complements the savory, salty flavor of the meat.
And all for about 20 minutes effort.
Pomegranate-rosemary brisket with red wine jus
Start to finish: 2 1/2 to 3 hours (20 minutes active)
Servings: 4
1 tablespoon olive oil
1 tablespoon kosher salt
1/2 tablespoon whole peppercorns
2 sprigs fresh rosemary, leaves only
3 cloves garlic
2 1/4-pound brisket, trimmed of fat
8-ounce package baby Portobello mushrooms
1 medium yellow onion, quartered
1 pomegranate, quartered
1 cup red wine
Heat the oven to 300 degrees. Drizzle the oil over the bottom of a large Dutch oven.
Using a mortar and pestle, spice grinder or small food processor, grind together the salt, peppercorns, rosemary and garlic until they form a coarse paste.
Rub the rosemary-garlic blend over the brisket, then place the meat in the Dutch oven. Scatter the mushrooms, onion and pomegranate around the meat, then pour the wine down the side. Cover the pot and roast for 2 to 2 1/2 hours, or until the meat is fork tender.
Transfer the brisket from the pot to a serving platter. Use a slotted spoon to transfer the mushrooms to the platter. Cover with foil and set aside.
Pour the liquid in the pot through a mesh strainer into a bowl. Discard the solids. Return the strained liquid to the pot and set over medium-high. Simmer until reduced and thickened, about 10 minutes. Serve the jus alongside the meat and mushrooms.
Nutrition information per serving (values are rounded to the nearest whole number): 533 calories; 203 calories from fat (38 percent of total calories); 23 g fat (7 g saturated; 0 g trans fats); 158 mg cholesterol; 14 g carbohydrate; 55 g protein; 1 g fiber; 1,650 mg sodium.
Recent Headlines
---