Get extra flavor by boozing up your holiday baking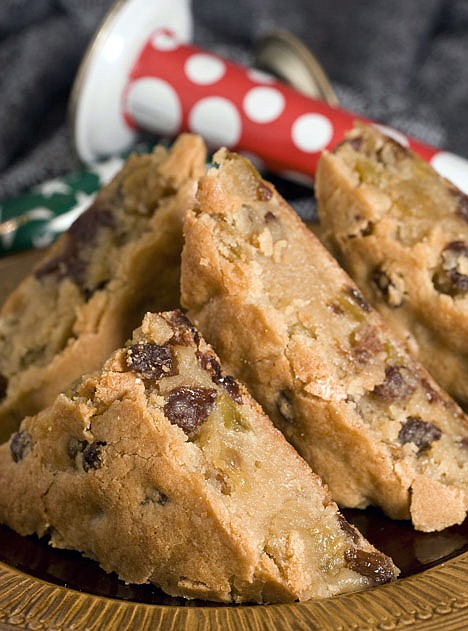 <p>This Nov. 16, 2010 photo shows rum raisin bars in Concord, N.H. Combine two traditional New Year activities, eating and drinking, in one yummy baked treat with these rum raisin bars.</p>
by
Michele Kayal
|
December 15, 2010 8:00 PM
If Thanksgiving is about eating, then surely New Year's Eve is about drinking. And what's better than eating or drinking? Eating while drinking.
"The best stew I ever had someone made with Scotch," says Patricia Helding, founder of New York's Fat Witch Bakery, who likes to frost brownies for New Year's Eve with Champagne icing. "It just gives it a little fizz and that lovely Champagney flavor."
We all know booze adds body to stews and roasts, but Helding says it also imparts aroma and sweetness to baked goods. It makes a classic brownie festive - think Kentucky bourbon balls - and far out confections like rum raisin bars as playful as ice cream. But remember that friends don't let friends bake drunk.
"More is not better," says Helding, whose cookbook "Fat Witch Brownies" (Rodale, 2010) features a few boozy bars. "You don't want the dough to get too runny." And if your finished product needs more punch? "You can add liquor to any buttercream icing," she says.
It's nearly impossible to get drunk on cake, but Helding suggests you warn your guests about the alcohol in case they have religious or other restrictions. A simple, elegant sign that says "Whiskey Brownies" or "Rum Cake" will do.
And let's say you do eat too many pickled pecan bars and find yourself with an unsavory resolution: like losing 10 pounds. Sweets can help!
"To try and deprive yourself completely, it just fuels the desire," Helding says. Instead, enjoy small servings of very rich, ultra-satisfying desserts, items made with real butter and real cream. Add nuts and cranberries and chocolate chips, anything that makes the cookie or brownie the best one possible.
"It's all about portions," she says. "A lot of people say 'Once a week I have a cookie and it's the best tasting cookie I've ever had.' Thin people are always like that."
The lesson here? Take a bite (one), take a swig, and have a happy new year.
Rum raisin bars
Start to finish: 45 minutes (plus overnight soaking of raisins)
Makes 16 bars
1/2 cup light rum
1 3/4 cups raisins (mixture of dark and golden)
1/2 cup (1 stick) unsalted butter, room temperature, plus extra for coating the pan
1 1/2 cups packed light brown sugar
2 large eggs
1 teaspoon vanilla extract
1 1/2 cups all-purpose flour
1 teaspoon salt
In a medium bowl, combine the rum and the raisins. Cover and let soak for at least 6 hours, or overnight.
Heat the oven to 350 degrees. Coat a 9-by-9-inch baking pan with baking spray.
In a large bowl, use an electric mixer to cream the butter and brown sugar. Beat in the eggs and vanilla, then continue mixing until the batter is well combined.
Measure the flour and salt and sift together directly into the batter. Mix the batter gently until no trace of the dry ingredients remains.
Strain the rum-soaked raisins and mix them in using a wooden spoon.
Using a silicone spatula, spread the batter evenly into the prepared baking pan. You may have to use your fingers (lightly flour them first), as this batter is very sticky.
Bake for 30 minutes, or until a toothpick inserted at the center comes out clean. Remove from the oven and cool on a rack for 1 hour. Cut just before serving.
Nutrition information per bar (values are rounded to the nearest whole number): 238 calories; 58 calories from fat (24 percent of total calories); 7 g fat (4 g saturated; 0 g trans fats); 42 mg cholesterol; 41 g carbohydrate; 3 g protein; 1 g fiber; 131 mg sodium.
(Recipe from Patricia Helding's "Fat Witch Brownies," Rodale Books, 2010)
Recent Headlines
---