About the aquifer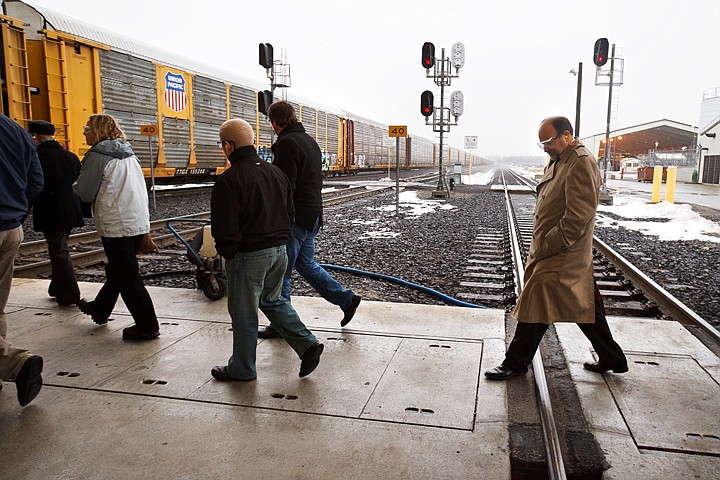 <p>Kootenai County Commissioner Rick Currie crosses the tracks as he and a group tour the Burlington Northern Sante Fe Railway's Hauser Lake refueling depot Monday.</p>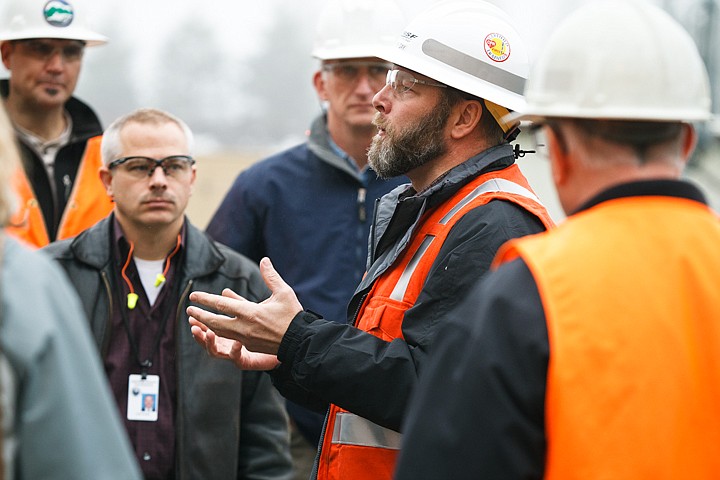 <p>Terry Gay, general foreman for the Burlington Northern Sante Fe Railway refueling depot, leads a tour for Kootenai County commissioners, Idaho Department of Environmental Quality and BNSF personnel prior to a workshop at the facility in Hauser Lake.</p>
Previous
Next
by
Alecia Warren
|
December 14, 2010 8:00 PM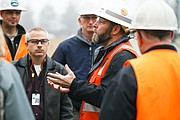 HAUSER - Seeing it up close didn't make talking easier.
After the Kootenai County commissioners toured Burlington Northern Santa Fe's refueling depot in Hauser on Monday, there was still a stalemate over whether the railroad company would adopt new safety regulations the officials have proposed for the facility.
Commissioner Todd Tondee insisted that no measure is too restrictive when it comes to protecting the Rathdrum Prairie Aquifer, the drinking water source for half a million people that lies beneath the fueling station.
"I don't know of any other industry that has the possibility of jeopardizing our aquifer like this one has," Tondee said at a workshop with BNSF officials after the tour.
"I was hoping we could get beyond that (perception) with the tour today," responded company attorney Janet Robnett. "That jeopardy is there from any human activity over the aquifer."
The commissioners recently called for the railroad to adopt new permit amendments for its $52 million facility that services more than 10,000 trains a year.
BNSF recently responded with a lawsuit, stating that the permit-compliant facility needs no more conditions.
Neither side wanted to budge on Monday.
At the workshop in a depot facility, the commissioners fought for their proposals that BNSF maintain three slant wells once used for ground water monitoring, and continue funding a Department of Environmental Quality position for aquifer protection.
"I think it is a small price to pay," said Commissioner Rick Currie.
But BNSF representatives argued that the DEQ employee wouldn't have enough to do.
Maintaining and replacing the wells are unnecessary, Robnett added, thanks to other safeguards that can point to a leak at the depot.
"That's replacing a redundant system when you don't even need it," Robnett said.
BNSF staff also balked at a proposal to close the depot if a leak reaches the second underground liner.
"That's more restrictive than anything else in Idaho, because there still hasn't been a breach in the environment. We have not impacted ground water or soil," said General Foreman Terry Gay, adding that the DEQ investigates in that situation.
Tondee argued that the goal was to catch a problem before it did any damage.
"Let's damage everything before we do anything? I just don't buy that," Tondee said. "In my mind, this condition doesn't hurt you."
Both sides agreed to confer soon over the lawsuit and a potential public hearing.
On the tour of the facility, operating since 2004, Gay showed that BNSF is constantly on the lookout for problems.
"We want to know where every gallon of fuel goes," Gay said.
In the operations headquarters, a video monitor flashed through different angles of the facility, where employees bustled around freight trains.
Besides the basic security cameras, the depot has a 24-hour computer monitoring system with an uninterrupted power supply, so it keeps tabs on any possible problems even during power outages, Gay said.
"Our employees can shut down the facility at any given time," he added.
At the fueling platform, where orange lights pierced through the morning fog, Gay pointed to the concrete floor, 8 to 24 inches thick and double coated with a special sealant.
Below the commissioners' feet were two underground liners intended to block leaks like "a bathtub inside a bathtub," Gay said. And vapor wells around the platform allow staff to literally smell if a leak reaches the liners, he added.
"That's our first line of defense, if anything were to breach the second liner," he said. "Those would be the first indicators so we could respond in plenty of time before it reached the aquifer."
Orange pipes zigzagged across the pump station, where diesel flows through. Gay pointed out a monitoring device in a grate below the fuel pumps, that will shut down the facility if it rises half an inch - indicative of a leak.
"We keep the doors blocked with berms, so if a leak or rupture happens, we can see through the windows and prevent leaking it into the environment," Gay said.
BNSF learns from its mistakes, he emphasized. After 2004, when a crushed wastewater line leaked petroleum, the depot replaced that piping with a custom-made, double-walled pipe.
"You can't drive a nail through this. You can't crush this pipe," he said, passing around a piece to demonstrate.
BNSF spokesperson Gus Melonas said that when underground protective liners failed in 2005, that followed with an 80-day investigation and $10 million investment to rebuild the barriers.
"Nothing has happened since," Melonas said.
Robnett said BNSF had 142 employees in 2009 and paid $11 million in payroll, most in North Idaho.
Commissioner Rick Currie told BNSF staff he was pleased to see the depot's extensive monitoring.
"The facility is impressive," he said. "But we have 136,000 citizens in Kootenai County looking over our shoulders. We've got to listen to everybody."
Recent Headlines
---