Wild finish in the 'Inferno'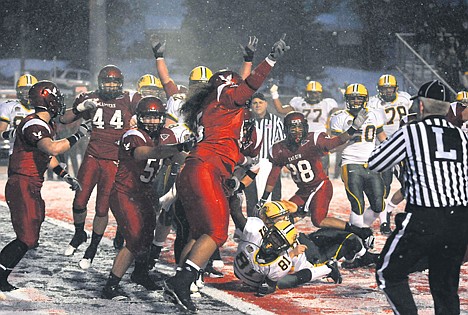 <p>Eastern Washington celebrates a recovered fumble and the win after North Dakota State lost the ball on the goal line in overtime Saturday in Cheney.</p>
|
December 12, 2010 8:00 PM
CHENEY (AP) - Bo Levi Mitchell threw a 25-yard touchdown pass to Tyler Hart on the first play of overtime and Eastern Washington recovered a goal-line fumble by quarterback Brock Jensen to beat North Dakota State 38-31 in the quarterfinals of the FCS playoffs Saturday.
Taiwan Jones rushed for a career-high 230 yards for the fifth-seeded Eagles (11-2), who will host Villanova either Friday or Saturday in the semifinals.
With the Bison (9-5) facing second-and-goal at the Eastern Washington 4-yard line, Jensen was hit by J.C. Sherritt and the ball came loose when his hands hit the turf. Zach Johnson recovered in the end zone.
Replays appeared to show the ball coming out after Jensen hit the ground. However, replay official Bill Fette of the Pac-10 didn't overturn it, and when the ruling was announced fans stormed the field.
D.J. McNorton had 124 yards rushing and a touchdown for North Dakota State.
With footing dicey after a second-half snowfall, the Bison looked to be in control after D.J. McNorton took a screen pass and raced 21 yards for a touchdown and a 31-24 lead with 5:51 left in the game.
But Eastern Washington drove 90 yards in the final 2:29 to tie it. Mitchell, who threw three TDs, found Nicholas Edwards with a 4-yard scoring toss with 23 seconds left in regulation.
After trailing 14-0 early, North Dakota State rallied to tie the game at 24-all on Marcus Williams' 5-yard interception return with 8:45 left in the third quarter. It was one of five second-half turnovers by the Eagles, a season-high. Mitchell was responsible for two interceptions and two fumbles.
Jones, who had 203 yards rushing in the first half, raced 63 yards to set up Eastern Washington's first score - a 1-yard TD toss from Mitchell to Zack Gehring. He put the Eagles up 14-0 on a 69-yard scoring run with 9:05 left in the first quarter.
Mike Sigers, who blocked two Eastern Washington field-goal attempts, took the second-half kickoff 94 yards for a touchdown as North Dakota State tied the game at 17-all. Eastern Washington's Jesse Hoffman took the ensuing kickoff 88 yards for a score.
Sherritt had 15 tackles to become the all-time leader for the Eagles, who have won nine straight.
Recent Headlines
---