Kids stuff stockings - er, bags - with clothes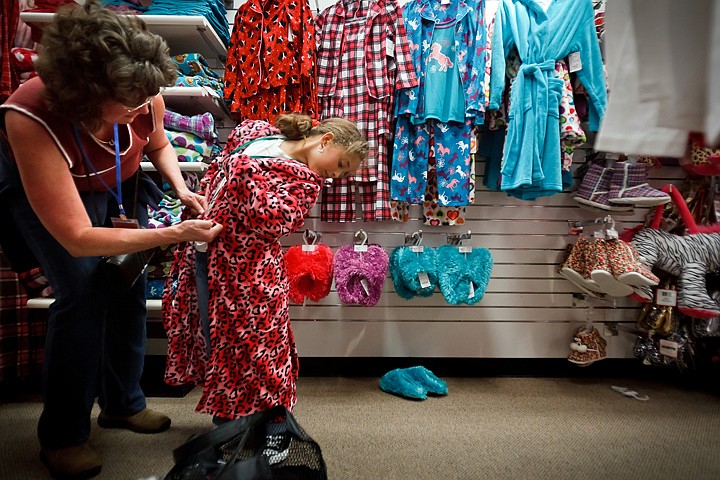 <p>Tracie Anderson assists Sydney Adams, 7, with fitting a robe the Rathdrum girl picked out during the Kroc Center's "Clothe-A-Child" shopping spree Friday. Over two days, 120 children from seven area elementary schools were given $120 to purchase clothing at JCPenney in Coeur d'Alene.</p>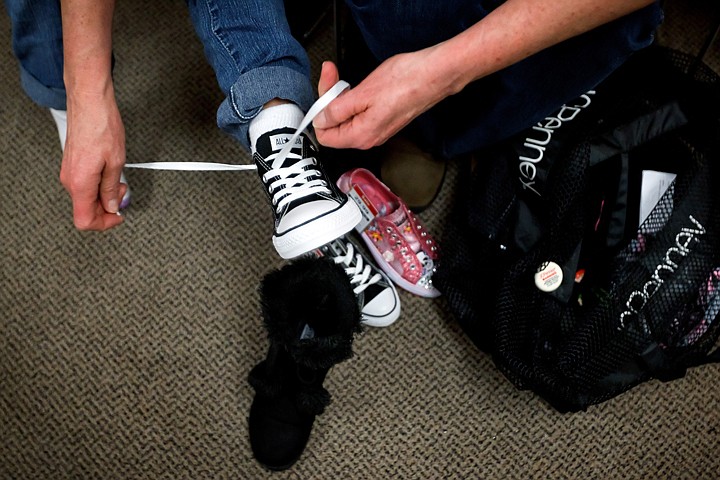 <p>Tracie Anderson ties a new shoe for Sydney Adams as they shop for footwear.</p>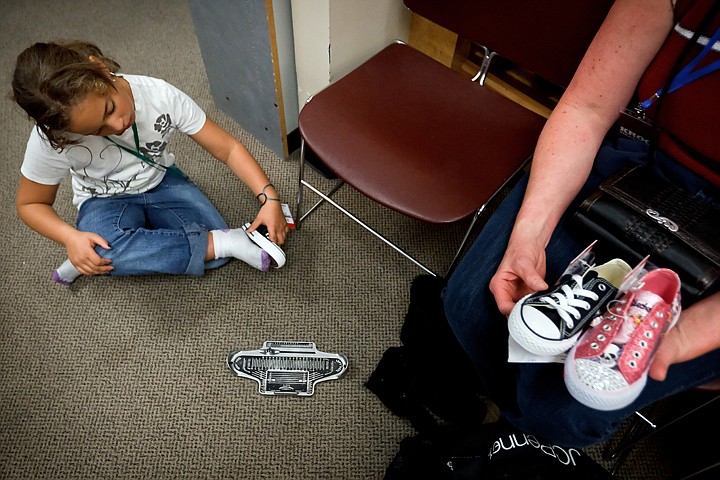 <p>Sydney Adams tries to match up a display shoe to her foot while waiting for her sized shoe to be delivered by a salesperson.</p>
Previous
Next
by
Tom Hasslinger
|
December 11, 2010 8:00 PM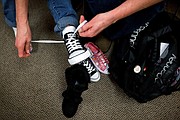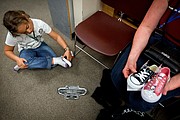 COEUR d'ALENE - After the jeans, shoes and dresses were in the bag, there was still enough room for a robe - a long, warm, flowing robe.
So 7-year-old Sydney Adams sported the piece of comfort and joy.
"We did perfect," said Tracie Anderson, Sydney's shopping partner, high-fiving the youngster at the JC Penney cashier desk. "Sydney, we did perfect."
The duo was part of the Coeur d'Alene Kroc Community Center's inaugural Clothe-A-Child event, which teamed the helpers with 120 elementary school children who needed a little help filling out their Christmas wish lists.
The program, donation based, gave the chosen kids from seven schools in Post Falls, Rathdrum, Coeur d'Alene and Hayden a $100 Penney's shopping spree on Thursday and Friday evenings.
Pants? Check. Coats? You bet. Just throw it in the shopping bag.
"It's an absolute blast," said Sally Robinson, store manager, watching the second set of 60 kids rushing through her store Friday evening. "My associates, after last night, they were calling in wanting to volunteer for tonight, too. It's just been a lot of fun."
The program has been part of the Salvation Army for years, but this year the affiliated Kroc Center got on board to bring it to Coeur d'Alene. So far, the program raised $7,000 for the spree - short of the $12,000 goal but more than enough to get it off the ground. The schools helped screen the applications to ensure the children who most needed the help this year were the ones who filled the store aisles.
And judging by the success, the program is likely to become an annual event.
"I told my mom I was going to be a fashion freak," said fourth grader Savannah Johnson, picking out dress after dress to add to her bag. "And she didn't believe me."
The goal was to ease the burden for families for the holiday season. With a store discount, the $100 stretched to $120. After shopping, everyone went back to the Kroc Center for a pizza party.
"They fit, they fit, they fit," said Dalton Wild, 6, happy with the new shoes he tried on.
And for each partner pairing, the volunteers were proud just to be part of the ride.
"He was happy with all the stuff," Dalton's volunteer, Kent Setty, said after checking out as Dalton clutched his filled bag. "He held the stuff like he didn't want to let it go."
And for every needed article of clothes, there was enough room in the budget for some fun stuff, too, like a robe.
"It's a whirlwind, but it's fun though," Anderson said after Sydney filled her bag to the brim. "It's what I expected - it's exciting. I love the kids."
Recent Headlines
---