Explosives-laden house burns down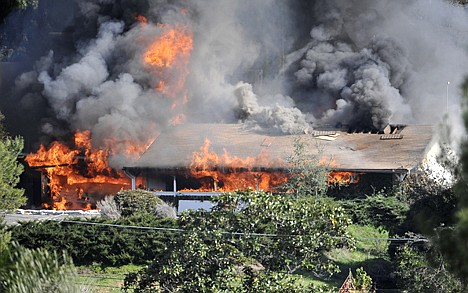 <p>A house erupts in flames on Thursday during the controlled burn of a home in Escondido, Calif., that was so packed with homemade explosives that authorities claim they had no choice but to burn it to the ground. The house was rented by an out-of-work software consultant who allegedly assembled an astonishing quantity of bomb-making materials that included chemicals used by Middle Eastern suicide bombers.</p>
|
December 10, 2010 8:00 PM
ESCONDIDO, Calif. (AP) - In the end, there were no big explosions. No flames leaping from house to house. Just residents, watching anxiously as a house packed with explosives in their neighborhood went up in flames.
All of it, thankfully, without a hitch.
"I feel better," said Pat MacQueen, 76, standing on a porch Thursday as reddish-orange flames rose into the sky about a block away.
The blaze devoured the ranch-style house filled with so much homemade explosive material that authorities said they had no choice but to burn it to the ground. It popped and crackled. At one point, a deep boom from the fire echoed through the neighborhood.
"Oh, that's scary," said MacQueen, who moved to the San Diego suburb about 11 years ago.
While the immediate safety threat had passed, MacQueen and other residents were still haunted by the man who rented the house - George Jakubec. How did he amass so much explosive material, as authorities say, and what did he plan to do with it?
Investigators are still trying to find those answers as Jakubec sits in jail on bomb-making and bank robbery charges.
Their immediate concern, however, disintegrated in less than an hour.
Recent Headlines
---