Jim Beam, Titleist maker to split into 3 companies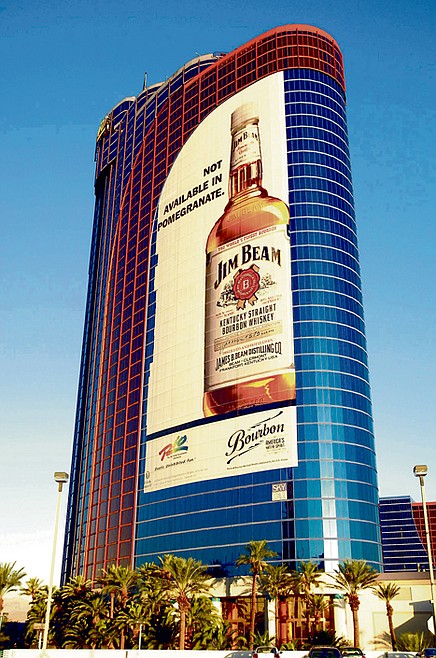 <p>The world's largest distilled spirits as is wrapped around the Rio All-Suite Hotel & Casino on the Las Vegas Strip in an undated photo.</p>
by
Mae Anderson & Sarah Skidmore
|
December 9, 2010 8:00 PM
NEW YORK - Consumer products maker Fortune Brands Inc. plans to split into three companies, keeping its liquor business led by Jim Beam bourbon while shedding the units that make Titleist golf balls, Moen faucets and Master Locks.
Fortune Brands said Wednesday it will focus on its spirits business, which generates annual revenue of $2.5 billion and also includes brands such as Canadian Club and Maker's Mark.
The home and security business, which also includes MasterBrand cabinets, will be spun off on a tax-free basis to shareholders. Fortune's golf business, Acushnet, based in Fairhaven, Mass., which makes Titleist golf equipment and FootJoy golf shoes and gloves, will be either spun off or sold.
The announcement comes two months after activist investor William Ackman took an 11 percent stake in the company, becoming its largest shareholder.
Fortune Brands, based in Deerfield, Ill., said it expects to complete separation planning within several months. The separation is subject to conditions including regulatory approvals.
The company said the plan is the result of its ongoing strategic review over the past four years.
Fortune Brands was incorporated in 1985 but has its roots in the 19th century American Tobacco Co., which acquired a variety of businesses over the years. It had sold off its tobacco businesses by 1997.
"While the breadth and balance of our portfolio have served shareholders very well, we see the potential for even greater value by separating our businesses into focused companies at a time when they have emerged from the economic downturn in such strong positions," Chairman and CEO Bruce Carbonari said in a statement. "We believe now is the right time to move ahead with this tax-efficient approach, and we're confident the course we've outlined today generates greater potential long-term value than all other alternatives."
Analysts had long argued that the company could unlock the value of its businesses by turning them into separate entities. And Morgan Stanley analyst Dara Mohsenian said a split had been expected since Ackman took his stake.
But Morningstar analyst Philip Gorman said the timing of the news, so soon after Ackman's disclosure, suggests the company may have already been considering the move.
Fortune had previously argued that the conglomerate format allowed it the financial flexibility to support the array of brands as business ebbed and flowed. However, all of the company's brands struggled in the downturn, leaving little benefit to having three units together that might fetch attractive bids on their own.
The company reported in its last quarter that its net income fell 17 percent because of one-time charges and the expiration of the homebuyer tax credit. Revenue rose less than 1 percent.
"Overall, it just makes sense," Gorman said. "I'm slightly surprised by the speed, but not surprised."
Several analysts said Diageo or Pernod Ricard, which both do not have a strong bourbon brand, may consider a purchase of the spirits business.
No one was immediately available at Pershing Square Capital Management, Ackman's firm, to comment on the news.
Ackman and Pershing have agitated for major changes at retailers he holds stakes in, such as McDonald's Corp., Wendy's International Inc. and Target Corp. Earlier this week Ackman, who has a 37 percent Stake in Borders Group Inc., made headlines by saying he would finance a Borders bid to acquire its larger rival Barnes & Noble Inc.
Fortune Brands' shares finished Wednesday up 59 cents at $61.74.
Recent Headlines
---