USA vs. Europe golf battle far from over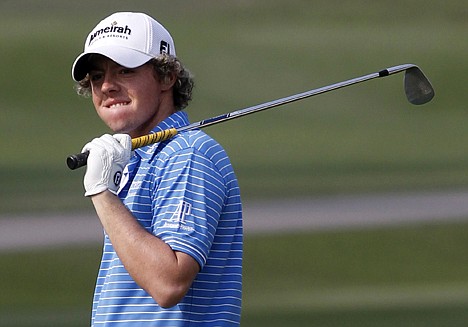 <p>Rory McIlroy of Northern Ireland, who opted not to renew his PGA Tour membership next year, was not voted rookie of the year, while Rickie Fowler - who did not win a tournament this year, was.</p>
by
Doug Ferguson
|
December 8, 2010 8:00 PM
THOUSAND OAKS, Calif. - Europe was 1 up when three of its top players decided not join the PGA Tour next year. America went all square by voting one of its own as rookie of the year over a European who had a superior season.
Never mind that the Ryder Cup ended two months ago.
All that's missing from this USA vs. Europe match are lilac sweaters and leaky rain suits.
Taunts played out in the media have been building in recent weeks over who has the better player (Europe), who won more majors (Europe) and which tour has more top 10 players in the world (Europe).
Now it's reached the point of arguing over who's more fun on Twitter (Europe again, in a landslide).
It all started when Lee Westwood moved to the top of the world ranking. This was cause for celebration in Europe, which had gone nearly two decades without being able to claim the No. 1 player. And it was cause for confusion in America, which has never bothered to understand how the ranking works or what it means (Hint: It's not about the majors).
Rory McIlroy caused more high-fives among the European press - ahem, supporters - when he said he would not renew his PGA Tour membership. Westwood never had any intention of joining, and PGA champion Martin Kaymer also decided against it.
This was billed as McIlroy snubbing his nose at America.
Not true, the kid said.
"The media, especially the European and British media, have blown it up," McIlroy said at the Chevron World Challenge. "They made it sound like 'Rory snubs America.' That's not what I wanted to do. I just figured it was not quite the right time for me. But there's no doubt I'll join the tour again at some point."
The word "snub" took on a more realistic meaning when the PGA Tour announced its rookie of the year.
The award went to 21-year-old Rickie Fowler, who did a lot of terrific things as a rookie, but winning wasn't one of them. Fowler was twice a runner-up and was picked for the Ryder Cup team, where he won the last four holes of his singles match to earn a halve and enhance his reputation as an explosive player.
McIlroy had spent two years on the European Tour and already was among the top 10 in the world when he joined the PGA Tour. He was on the ballot as a rookie because it was his first full season.
On paper - or even by electronic vote - it should have been no contest.
McIlroy won Quail Hollow against one of the strongest fields of the year. He tied a major championship record with a 63 at St. Andrews. And he tied for third in two majors. Fowler only played in two majors and finished a combined 30 shots behind.
The tour won't say how many players voted or the size of the margin. There was no exit polling, so it is difficult to say what might have caused players to vote for Fowler. The most likely case was they didn't consider McIlroy a real rookie (neither did McIlroy, for that matter). Or perhaps they checked off the first name on the ballot; candidates were listed in alphabetical order.
Could it be punishment for McIlroy not renewing his membership in America?
Doubtful, although it was the first thing some people considered.
And that's what prompted Westwood to offer a scathing assessment on Twitter that began, "Sorry 140 letters is not going to be enough for this rant!"
"Is this yet another case of protectionism by the pga tour or are they so desperate to win something! Wouldn't have something to do with Rory not joining the tour next year? Maybe the PGA tour just employs the same voting process as FIFA! Come on, fairs fair!"
Westwood apparently knows as much about the voting process as Americans know about the world ranking.
Recent Headlines
---