'It was a blessing'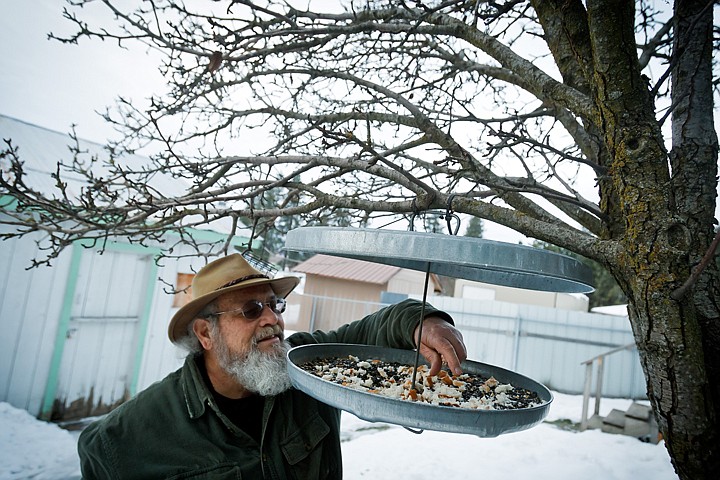 <p>Rick O'Connor, a recipient of ElderHelp donations, fills his bird feeder at his home Tuesday in Coeur d'Alene.</p>
by
BILL BULEY
Staff Writer
|
December 8, 2010 8:00 PM
COEUR d'ALENE - With little food in his home and little money in his pocket, Rick O'Connor was not looking at a bright Christmas last year.
That's when ElderHelp of North Idaho stepped up.
They delivered not only a load of firewood, but a bin of food - and then, even a cooked turkey.
"If it wasn't for them, I would have been going hungry a little bit," the Coeur d'Alene man said Tuesday.
O'Connor said the food package that surprisingly showed up on his porch was "jammed" with enough to make many meals and get through the holidays.
"There were a lot of things I would have never bought because I wouldn't afford them," the 60-year-old said. "It was a blessing."
ElderHelp is again collecting food for the area's older residents - after collecting about 16,000 pounds last year and helping nearly 250 needy seniors.
This year's goal is 20,000 pounds that will go to more than 300 seniors in Idaho's five northern counties. So far, they've rounded up about 8,000 pounds.
"We have more seniors who need help," said ElderHelp spokesman John Corcoran.
One catch: They need to move quickly. Donations will be delivered Wednesday, Dec. 15. That means nonperishable items, such as canned soup and vegetables, jam, peanut butter and pasta and sauce, must be donated by Monday.
O'Connor, a diabetic who receives food stamps, said he couldn't afford to buy firewood when ElderHelp gave him a cord. He said his pantry was close to empty when ElderHelp, again, filled the shelves.
"This came as a godsend for me last year," he said. "I really appreciated it."
ElderHelp later called and said, "Would you like a turkey?"
"They even brought it to me cooked last year," O'Connor said.
There was a point he was taking money from his food budget to pay other bills and would have to skip a meal. With ElderHelp's assistance, he's getting three squares.
ElderHelp food drive collection boxes can be found throughout Kootenai County including at Super 1 stores, Stein's IGA, Curves, Inland Northwest banks, Coldwell Banker, Resort Properties by the Lake and Windermere/Coeur d'Alene Realty, United Way and The Press.
Anyone interested in donating or volunteering can contact ElderHelp at info@ehoni.org or (208) 661-8870.
Recent Headlines
---