Family struggles after dad leaves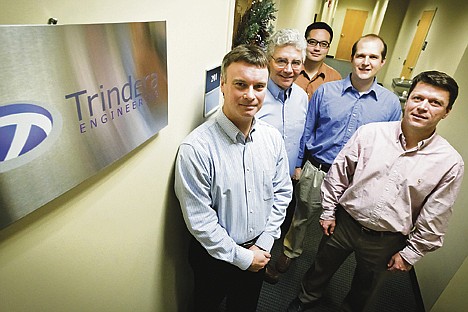 <p>Trindera Engineering recently donated $500 to this year's Press Christmas for All campaign. Photographed from left, Terry Stulc, Ray Daigh, Tyler Spence, Grady Weisz and Steffen Teichmann.</p>
|
December 8, 2010 8:00 PM
It will be a dismal Christmas for this mother of six without help from Press Christmas for All.
Her husband of nearly 30 years left the family "without saying goodbye," and refuses to support them in any way.
The family's only income comes from her hourly wages from a job at a local health club. She is unable to get food stamps at this time unless her estranged spouse provides something in writing stating that he isn't providing the family with financial support.
Her oldest son is deployed to Afghanistan, and she has five children still at home.
Her 18-year-old daughter is staying home to provide day care for the youngest children, and working on getting a GED.
With our readers' assistance, Press Christmas for All works to brighten the holidays for folks like this - people left jobless, homeless or who are barely making ends meet, individuals with disabilities or illnesses. Many are alone this holiday season.
Last year our generous readers' donations allowed us to assist thousands of families in need, and this year we expect to be asked for help from far more.
Each day until Christmas, we will share with you the stories of those whose holiday memories will be a little happier because of Press Christmas for All.
Donations are collected, then distributed in the form of gift cards to Kootenai County residents in need.
Press Christmas for All is a holiday charity now in its 25th year. It is managed as a nonprofit by The Hagadone Corp. Because it is run by volunteers from The Hagadone Corp. and their partners at Kootenai County Fire and Rescue, every penny raised is distributed in the form of gift cards to Shopko and to Super 1 Food Stores. Contributions are tax deductible to the fullest extent of the law. The cards can be used to buy food and gifts but not alcohol or tobacco products.
To donate, please send a check to:
Press Christmas for All
201 Second St.
Coeur d'Alene, ID 83814
You can also call (208) 664-8176 weekdays between 8 a.m. and 5 p.m. and donate by credit card.
Recent donors include:
Debbie and Mark Michalak; Anonymous; Deb Allred "In loving memory of Casey Adams"; Esther Alme; Bunny Ankney; Astlund Family; Paul & Patricia Barrett; Kenneth & Sherry Beno; Bouchard Family; Sandra Caron; Dennis & Mary Casey; Stuart Denny; Elinor Diltz; J. Dixon & P. Dixon; John & Wilma Ednie; Paulann Eggen; Shirley Ely; David & Patricia Fox; Catherine Francis; Christine Francis "In memory of my son Carey Francis"; General Pneumatic Tools, LLC & Shannon & Gail Brimhall, & Steve & Patty Astlund; Elizabeth Gibbons; Aloys Glose; Carlie Grimm "In memory of my dear husband Harvey Grimm"; Arlyn & Anita Hansen; Harold Hennes; Terence & Carol Henry; Doreen Mary Holder; Linda Jo Isaacson "In memory of Herman & Cora Ulvan"; Lois Johnson "In memory of Bob & Virginia Paulos"; Don & Fern Johnston; Anonymous; Anne & Frederick Kindler; C. Kirby & S. Kirby; Ken & Dee Dee Koep; Diane Legerski; John & Gloria Lundeberg; Margaret & James Manley; Betty Marshall; Paul & Beverly McCabe; Joe & Edelmira Michels; Chris & Victoria Miller; Helen Mitchell; J.M. Mitten "In loving memory of Ray Mitten and also the founder of CFA Bob Paulos; Anonymous; Richard Ness; Ernest & Rudean Neumann; Alva & Kris Osborn; Keith & Valerie Peila; Bonnie Petty "In loving memory of my husband Paul"; Silda Pollard; Bruce & Marianne Powers; Robert & Patricia Provost; Janet Reagan; James & Grace Rebal; Patricia Retano; Dennis & Connie Ripatti; Jack Schnabl "In loving memory of my wife Marjorie & daughter Linda Schnabl"; Eleanor Smith "In loving memory of Josephine Johnston"; Kenneth & Diana Smitheman; Doug & Mary Somers; Marjorie Stallman; Marvin Taylor "In loving memory of my wife Mardell Taylor"; Midge Thysell; Michael & Karen Van Slate; Anonymous; Paul & Virginia Westhafer; Steve & Candace Wheeler "In loving memory of our daughter Alison"; Renee, Karen, Beverly & Jolee "In loving memory of our mother Lois Riggs"; Genevieve & William Wolfe; William & Valerie Wolfe; Clyde Ylitalo; Carol & Robert Yost; Richard & Carla Browning; Dan & Linda Green; Marjorie Jones.
Recent Headlines
---