Elizabeth Edwards dies after long battle with cancer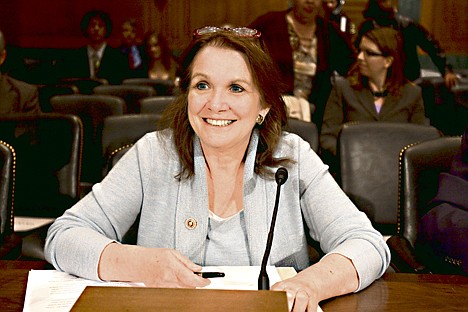 <p>Elizabeth Edwards testifies on Oct. 20, 2009, on Capitol Hill in Washington D.C. The former wife of presidential candidate John Edwards, who advocated for health care reform even as her own health and marriage publicly crumbled, died Tuesday after a six-year struggle with cancer. She was 61.</p>
|
December 8, 2010 8:00 PM
CHAPEL HILL, N.C. (AP) - Elizabeth Edwards, who closely advised her husband in two bids for the presidency and advocated for health care even as her own health and marriage publicly crumbled, died Tuesday after a six-year struggle with cancer. She was 61.
She died at her North Carolina home surrounded by her three children, siblings, friends and her estranged husband, John, the family said.
She was first diagnosed with breast cancer in 2004, in the final days of her husband's vice presidential campaign. The Democratic John Kerry-John Edwards ticket lost to incumbent President George W. Bush.
John Edwards launched a second bid for the White House in 2007, and the Edwardses decided to continue even after doctors told Elizabeth that her cancer had spread. He lost the nomination to Barack Obama.
The couple separated in January after he admitted fathering a child with a campaign videographer.
Elizabeth Edwards had focused in recent years on advocating health care reform, often wondering aloud about the plight of those who faced the same of kind of physical struggles she did but without her personal wealth.
She had also shared with the public the most intimate struggles of her bouts with cancer, writing and speaking about the pain of losing her hair, the efforts to assure her children about their mother's future and the questions that lingered about how many days she had left to live.
President Barack Obama said he spoke to John Edwards and the Edwardses' daughter, Cate, on Tuesday afternoon to offer condolences.
The president called her a tenacious advocate for fixing the health care system and fighting poverty. "Our country has benefited from the voice she gave to the cause of building a society that lifts up all those left behind," Obama said.
Elizabeth Edwards and her family had informed the public that she had weeks, if not days, left when they announced on Monday that doctors had told her that further treatment would do no good. Ever the public figure, Edwards thanked supporters on her Facebook page.
"The days of our lives, for all of us, are numbered," she wrote. "We know that. And yes, there are certainly times when we aren't able to muster as much strength and patience as we would like. It's called being human. But I have found that in the simple act of living with hope, and in the daily effort to have a positive impact in the world, the days I do have are made all the more meaningful and precious. And for that I am grateful."
Dr. Otis W. Brawley of the American Cancer Society said the "courage, grace and dignity" that Edwards showed in battling cancer was an inspiration to patients, their families and health care professionals.
The Edwardses met in law school. Cate Edwards has followed her parents into a career in law. A son, Wade, was killed in a traffic accident when he was 16. Elizabeth Edwards had two more children later, giving birth to Emma Claire when she was 48 and Jack when she was 50.
Recent Headlines
---