Ex-Cowboys QB Meredith dies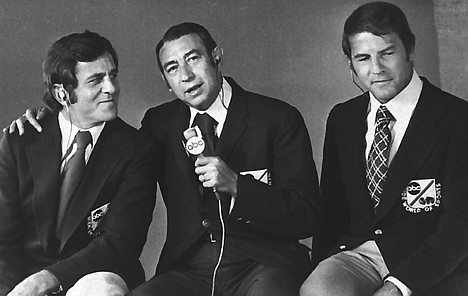 <p>From left, Don Meredith, Howard Cosell and Frank Gifford talk during a pregame of ABC's "Monday Night Football" in January 1972.</p>
|
December 7, 2010 8:00 PM
DALLAS (AP) - Don Meredith was the happiest, most fun-loving guy wherever he went, whether crooning country tunes in the huddle as quarterback of the Dallas Cowboys or jawing with Howard Cosell in the broadcast booth as analyst on the groundbreaking "Monday Night Football."
His irreverent personality made him one of the most beloved figures in sports and entertainment in the 1970s and 1980s, helping turn the Cowboys and "Monday Night Football" into national sensations.
"Dandy Don" died Sunday after suffering a brain hemorrhage and lapsing into a coma in Santa Fe, N.M., where he lived out of the limelight with his wife, Susan, for the last 25 years. He was 72.
A folksy foil to Cosell's tell-it-like-it-is pomposity, Meredith was at his best with unscripted one-liners - often aimed at his broadcast partners. His trademark, though, came when one team had the game locked up. Meredith would warble, "Turn out the lights, the party's over" - from a song by his pal Willie Nelson.
Meredith played for the Cowboys from 1960-68, taking them from winless expansion team to the brink of a championship. He was only 31 when he retired before training camp in 1969, and a year later wound up alongside Cosell in the broadcast booth for the oddity of a prime-time, weeknight NFL game.
Patriots 45, Jets 3. Tom Brady threw for four touchdowns and 326 yards in New England's (10-2) romp past New York (9-3) for his NFL-record 26th straight regular-season home victory.
Ben Jarvis Green-Ellis rushed for 72 yards on 18 carries with two touchdowns for the Patriots.
Recent Headlines
---