Texas judge to hold hearing on death penalty law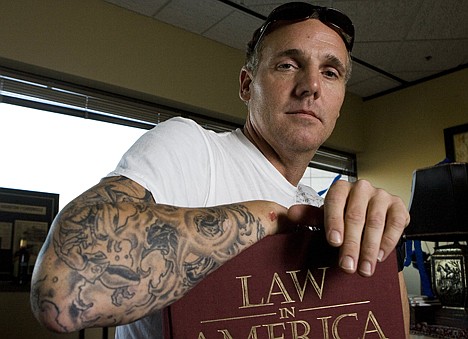 <p>Then newly elected State District Judge Kevin Fine shows his sleeve of tattoos at his downtown Houston office on Nov. 14, 2008.</p>
by
Juan A. Lozano
|
December 6, 2010 8:00 PM
HOUSTON - In the deeply Republican state that has executed more convicts than any other and the county that has sent the most to death row, an unusual legal proceeding will begin this week: A Democratic judge will hold a lengthy hearing on the constitutionality of the death penalty in Texas.
State District Judge Kevin Fine surprised many Texans last spring when he granted what is usually a routine and typically rejected defense motion and ruled the death penalty unconstitutional. His ruling came in the case of John Edward Green Jr., who is awaiting trial on charges he fatally shot a Houston woman and wounded her sister during a June 2008 robbery.
Following a torrent of criticism from Republican Gov. Rick Perry and other Texans, Fine clarified his ruling, saying the procedures the state follows in getting a death sentence are unconstitutional. Then Fine rescinded his ruling and ordered the hearing, which starts today, saying he needed more information before making a final decision.
Most Texans consider the death penalty a fitting punishment for the worst kind of crimes, and Harris County, which includes the state's largest city, Houston, has sent more inmates to the lethal-injection gurney than any other in Texas. But, anti-death penalty activists have created serious doubt recently about whether two men were wrongly executed.
Fine is an unusual Houston jurist: a Democrat who sports dense tattoos and has said he's a recovering alcoholic and former cocaine user.
He declined to be interviewed for this story, but he's said that he's taken notice of recent death row exonerations and his ruling will "boil down to whether or not an innocent person has actually been executed."
But Fine also has said he has no personal interest in the death penalty, he believes the death penalty is constitutional and the hearing will be limited to issues related to Green's case. The hearing, which could last up to two weeks, is expected to include testimony that Green's attorneys say will show how flaws in such things as eyewitness identification, confessions and forensic evidence have led to wrongful convictions.
Green's attorneys say the hearing is not a referendum on whether Texas should have a death penalty.
"We don't say a state doesn't have the right to have a death penalty," attorney Casey Keirnan said. "We're saying the way we do it in Texas under our statute is unconstitutional."
The debate over possible wrongful executions in Texas has been fueled by the cases of Cameron Todd Willingham and Claude Jones.
Willingham was put to death in 2004 after being convicted of burning down his home in Corsicana in 1991 and killing his 2-year-old daughter and 1-year-old twins. His execution has been questioned since several fire experts found serious fault in the arson findings that led to his conviction.
Jones was convicted in the 1989 killing of a liquor store owner during a robbery near Point Blank, about 75 miles north of Houston. His 2000 execution was called into question after a new DNA test showed a hair that had been the only piece of physical evidence linking him to the crime scene didn't belong to him.
Green's attorneys say they plan to bring up the Willingham and Jones cases at the hearing. They claim the state's death penalty procedures violate the Eighth Amendment right to freedom from cruel and unusual punishment because they create a "substantial risk" that innocent people are wrongfully convicted and sentenced to death.
Harris County prosecutors, who unsuccessfully tried to get Fine removed from the case, declined to comment before Monday's hearing. But in a petition filed last month, they asked the Texas Court of Criminal Appeals to stop the hearing, saying Fine doesn't have the authority to declare the state's death penalty law unconstitutional and higher courts, including the U.S. Supreme Court, have previously rejected Eighth Amendment challenges to capital punishment.
Prosecutors said Fine has shown "antagonism against the death penalty" and a jury should decide Green's fate.
The appeals court is dominated by Republicans and led by a chief judge who was disciplined for closing the court promptly at 5 p.m. while a death row inmate tried unsuccessfully to file an appeal hours before he was executed. But it denied the prosecution's motion, saying it couldn't act until Fine ruled.
Anti-death penalty groups have lauded Fine, while those in favor of capital punishment call him misguided.
"It's appropriate that a Harris County judge is stepping up and saying we need to take a time out and look at the system," said Scott Cobb, president of the Texas Moratorium Network, a group that advocates for a suspension of executions in the state.
Harris County has sentenced 286 people to death since Texas resumed executions in 1982, and 115 of those have been executed.
Dudley Sharp, a death penalty expert from Houston who has worked with crime victims' groups, described Fine as irresponsible and predicted that if he rules the death penalty is unconstitutional, the decision would likely be overturned on appeal.
"This is settled case law already," he said. "It's just going to be a worldwide kangaroo court for the anti-death penalty folks."
Recent Headlines
---