Average joes, celebrities welcomed at Elaine's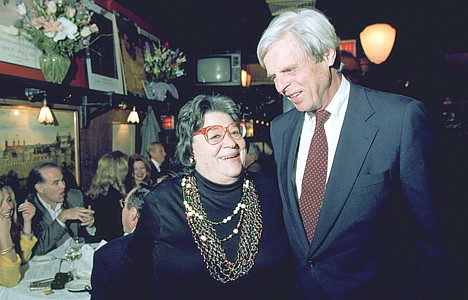 <p>Restaurateur Elaine Kaufman, left, stands with author George Plimpton at her restaurant "Elaine's" in New York on April 27, 1993. Kaufman, whose East Side establishment became a haven for show business and literary notables, died Friday at the age of 81.</p>
by
Samantha Gross
|
December 6, 2010 8:00 PM
NEW YORK - Celebrities and bold names and the publishing elite made Elaine Kaufman's restaurant famous. But you didn't have to be a star to pass her personal test and join the inner circle of regulars.
So up-and-comers and celebrities alike who had called her a friend gathered Friday night at Elaine's to reminisce about the brash-voiced woman who had alternately played matchmaker and scold, hostess and grandma for them over the years.
"All the people who are now my friends and chosen family - we met because Elaine said we should meet," said Arthur Bochner, who at 28 counts as "one of the biggest honors of my life" the first time Kaufman invited him to sit with her at one of her tables.
Hanging out at Elaine's, the speechwriter says, he met celebrities including Don Rickles and Jack Nicholson. But it was Kaufman herself - larger than life in every sense of the phrase - who was the draw.
Following her death Friday in Manhattan at the age of 81, big names joined the unknowns at the Upper East Side restaurant to pay their respects. Martin Bregman, producer of "Scarface" and other Al Pacino movies, came in with the help of a walker. James Lipton, host of "Inside the Actors Studio," and David Zinczenko, editor-in-chief of Men's Health magazine, also made their way through the crowd.
The bustling eatery is filled with history both real and imaginary.
Woody Allen opened his movie "Manhattan" with a scene set there. Billy Joel immortalized it in the song "Big Shot." Stuart Woods, author of dozens of popular mysteries, begins almost every book with his hero having dinner at Elaine's.
But the regulars tossing off tales of Kaufman's cutting one-liners and networking expertise Friday evening seemed convinced that the real life they'd lived at the restaurant - watching Kaufman hold court over what several said was essentially her living room - was more vibrant and satisfying than any fictional rendering.
As recently as a month ago, Kaufman had been working seven days a week until 2 a.m., a schedule she kept for decades, hosting famous faces for dinner, drinks and poker games.
Kaufman had a soft spot for writers who were trying to make it big and often let them eat for free. That included Woods, Kurt Vonnegut, Norman Mailer, George Plimpton, Gay Talese, and they eventually paid her back.
"No writer ever went hungry while Elaine was in business," Woods said. "If she knew someone was having a rough time, she would send a check to the table that just said, 'Tip the waiter.'"
She was known as an exceptional listener, with patrons and friends typically sticking around until the early morning hours. Her regulars were fiercely loyal.
"Like many many others, I will miss Elaine," said Kirk Douglas, who was there just two weeks ago. "She was a wonderful lady."
Bobby Zarem, a longtime public relations specialist and friend, said he walked into Elaine's three weeks after it opened near Second Avenue and 88th Street.
The two quickly became close, and Kaufman encouraged him to open his own PR shop. He brought clients to Elaine's, and the place evolved into a spot for hosting star-studded events like movie promotions and book parties.
But it retained its charm for the regulars.
"She was just this great, big wonderful woman. She was smart and very smart about people," Zarem said. "You could trust her and talk about anything."
Tables there soon became coveted, attracting not only a literary crowd but mayors, artists and celebrities, including Jackie Onassis, Michael Caine and George Steinbrenner.
"She was a special person who contributed so much to the rich fabric of New York City," Steinbrenner's son Hal said in a statement.
Former Mayor Ed Koch, who was in office when Elaine celebrated her 25th anniversary in 1988, said even he enjoyed spotting celebrities there.
"Elaine Kaufman had a lot of friends, and I was privileged to be one of them," he said in a statement.
Mayor Michael Bloomberg called her "a New York institution."
Among those who attended the 25th anniversary celebration were Sidney Lumet, Eli Wallach, Raquel Welch, Jackie Mason, Billy Dee Williams and Cheryl Tiegs.
Allen became a regular, Kaufman told The Associated Press in 1988, because "he loves to people-watch. It's comfortable, nobody bothers him, we make him what he wants."
Despite complaints over the years that she banished less-interesting people to the worst tables, Kaufman did not consider herself a snob, arguing that her restaurant simply attracted a sophisticated crowd.
Talese, an Elaine's regular since its early days, portrayed her as a no-nonsense hostess who could be prickly at times because of the demanding job.
"She wasn't a fraud. You got what you got. You got her backtalk and you got that she sometimes didn't feel like talking to you even if she liked you," Talese said Friday. "But she was always worthy of respect because she worked so hard. She knew everything that went on in that restaurant, right down to how much salt and pepper were in the shakers."
Recent Headlines
---