Locker's lob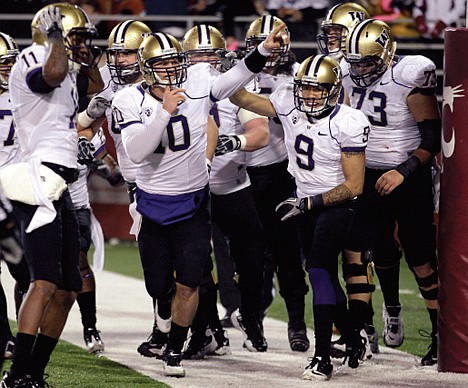 <p>Washington quarterback Jake Locker (10) celebrates with his team after he ran for a touchdown against Washington State in the first half Saturday in Pullman.</p>
by
Tim Booth
|
December 5, 2010 8:00 PM
PULLMAN - One drive, one throw and one career-defining moment for Jake Locker.
No more debating his place in Washington lore. Locker will be remembered as the quarterback that brought Washington from its darkest point and returned the Huskies to the postseason.
The senior quarterback, who turned down the NFL a year ago for one last shot at the postseason, threw a 27-yard touchdown pass to Jermaine Kearse with 44 seconds left, and Washington became bowl eligible with a stirring 35-28 win over rival Washington State in the 103rd Apple Cup on Saturday night.
Locker drove Washington 88 yards in under 4 minutes. His fade route to Kearse was perfectly on target, beating cornerback Nolan Washington and sending the purple-clad fans at Martin Stadium into frozen delirium.
When the desperation throw of Washington State quarterback Jeff Tuel fell into the arms of Washington safety Nate Fellner on the final play, those same fans rushed the turf to celebrate the Huskies' first bowl trip since 2002, albeit dodging snowballs and water bottles flying from the angry Washington State student section in an ugly scene that nearly got out of control.
They'll find out today where they are headed. The likely destinations: either San Antonio for the Alamo Bowl, or the Holiday Bowl in San Diego.
"I don't really have words to explain how I feel right now," Locker said. "I'm just so proud to be a part of this team, part of this program."
Two years ago, Washington (6-6, 5-4 Pac-10) walked out of this same stadium a program plummeting downward, on its way to an 0-12 season and wholesale changes.
It was the bottom of a six-year run when the Huskies won just 18 games.
So while the celebration may seem over the top for a team that won its final three games to finish 6-6, just getting to that point is a milestone for Washington. Of BCS conference teams, only Baylor and Duke had longer droughts without a bowl game than the Huskies, whose last postseason appearance came in 2002 with a trip to the Sun Bowl.
"This has been four or five years in the making for a few of us," Washington safety Nate Williams said. "It means a lot to us."
Locker's touchdown throw to Kearse made up for two costly turnovers earlier by the quarterback, when the Huskies were bound for points that would have made this victory far more comfortable.
And Locker was helped along by the second-best rushing day in Washington history from Chris Polk.
Sixty years after Hugh McElhenny ran for a school-record 296 yards against the Cougars, Polk nearly topped it. The sophomore ran for 284 yards and two touchdowns, including a 57-yard dash early in the fourth quarter that gave the Huskies a 28-14 lead.
Running powerfully and breaking tackles all night, Polk had seven runs of 10 yards or more. His 36-yarder on the Huskies' final drive put Washington into scoring position.
Later in the drive, after Washington coach Steve Sarkisian initially sent out kicker Erik Folk for a 49-yard field goal attempt, Polk raced for 15 yards on fourth-and-1 on the same play he scored the game-winning touchdown on the final play at California last week.
Two plays later, Kearse hauled in the winning score.
"I knew the ball was going to come my way," said Kearse, who finished with six catches for 178 yards. "Jake gave me an opportunity, and I just made the best of it."
Washington State (2-10, 1-8) didn't make anything easy and in the process may have saved coach Paul Wulff's job. His future has been in debate all season, but the continued competitiveness of the Cougars as the year progressed makes Wulff's staying or going a difficult decision for athletic director Bill Moos.
"I feel very comfortable, but it's not my decision. I feel good about where we are at and what we have done," Wulff said. "Bill and I will meet, spend time tomorrow and next day and go from there."
Tuel threw for 298 yards and three touchdowns for the Cougars and did his best to engineer a rally. Instead of rolling over, Tuel quickly led a 10-play scoring drive, capped by his 1-yard plunge on third-and-goal to get Washington State back within seven. The Cougars then held the Huskies' offense to a three-and-out and took back possession at their 27 with 7:20 left.
Tuel went to work again. He hit Daniel Blackledge, who finished with seven catches for 132 yards, for gains of 32 and 26 yards to get inside the Washington 20. Tuel then hit Marquis Wilson on a 16-yard slant to tie the score at 28 all.
"It was pretty emotional for everybody," Tuel said. "I thought we played a pretty good game."
But Locker had one more chance, validating his decision to bypass the NFL a year ago and return to school. He was 14 of 22 for 226 yards and threw a 66-yard touchdown to Kearse on the third play of the second half.
Locker ran for a 7-yard TD run in the first half, but also threw an interception in the end zone and fumbled at the Cougars 1 on the first play of the fourth quarter.
"The moment Jake decided to come back, I'm assuming that this is what he was envisioning," Sarkisian said. "This moment is why he came back."
Recent Headlines
---