Riding the rails to the North Pole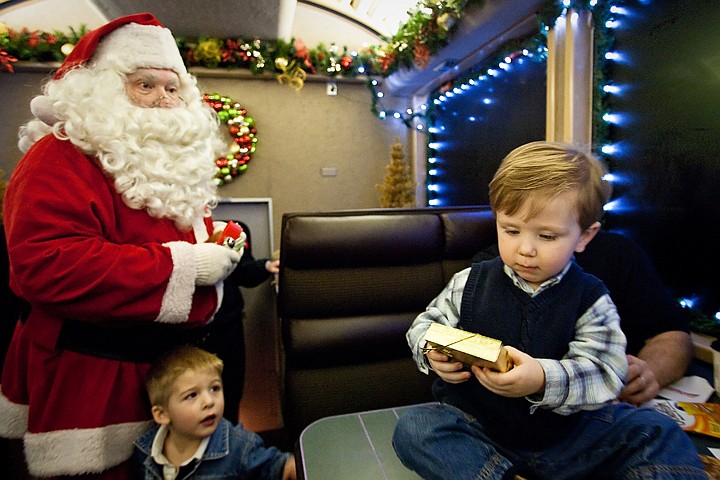 <p>Evan Joubert, 2, inspects a gift box after receiving it from Santa Wednesday during the maiden voyage of Burlington Northern Santa Fe railroad's Holiday Express as three-year-old Matthew Barnhart looks on. The passenger train will be on tour in the region offering rides to the families of deployed military personnel during the holiday season.</p>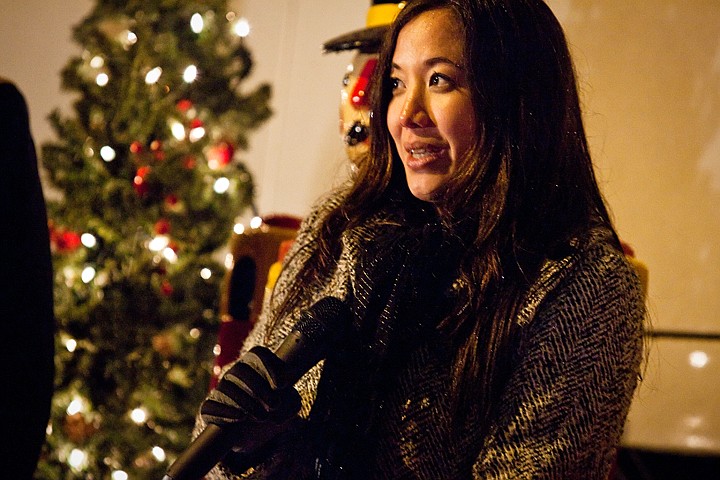 <p>Cassandra Vig, family assistance coordinator for the Idaho Army National Guard, addresses military families after receiving a donation of $10,000 from the BNSF Railway Foundation to be used towards the needs of the families.</p>
Previous
Next
by
Brian Walker
|
December 2, 2010 8:00 PM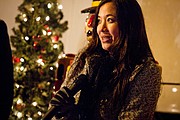 NORTH POLE, Idaho - Local military families were treated to a trip to North Pole aboard BNSF Railway's Holiday Express on Wednesday.
And they didn't even leave Kootenai County to get there.
North Pole - it's on Google maps - is at the intersection of Diagonal Road and East Brunner Road near Athol.
About 300 people departed from BNSF's Hauser refueling depot and rode past the tiny farming community to nearly Sandpoint on the hour-and-a-half ride in 12 different 1950s-era cars.
What kids seemed to enjoy the most was the luxury of exploring the different cars, including a bi-level coach car, dining car, executive suite, dance car, lounge and dome car.
Each was decorated for Christmas and Santa handed out Holiday Express ornaments as a souvenir.
"It just seems so classy," said 12-year-old Lee Vanderhoof of Athol. "I like it being so big that you can explore in it. The lights and people are nice, too."
Some kids equated the trip to the movie "The Polar Express."
Bethany Gordon, a 13-year-old from Post Falls, used a quiet executive car to chill out after touring the train.
"I didn't expect the train to be so long," she said. "It's nice being able to walk around and having some of the cars half empty."
Some parents surprised their kids about the trip.
"We didn't tell our 7-year-old daughter and when she got out of the car and saw the train, she was beside herself," said Kim Broesch. "This is really nice because it's something a lot of military families couldn't afford to do."
After the excursion, the BNSF Foundation gave the Idaho National Guard and Reserve Family Support Fund $10,000.
"This is our unique way of saying thank you to military personnel and their families for the freedoms they bring not only to the state, but the nation and world," said BNSF Spokesman Gus Melonas said of the funds and train ride. "BNSF has a close relationship with the families and we're a major employer of Guard and Reserve soldiers.
"Christmas, trains and children go hand in hand. This is a private jet on rails."
Nearly 200 local National Guard soldiers attached to the Post Falls armory and the 116th Cavalry Brigade Combat Team are deployed for a year to Iraq in support of Operation New Dawn.
Idaho National Guard Lt. Col. Darren Blagburn said the military appreciated the train ride gesture.
"This is a great opportunity for our families and kids, and it's not a common mode of transportation," he said.
Many of the families said the ride was their first on a train.
"Sure there's Silverwood (the train at the theme park), but that doesn't really count," said mother Lawnie Mathews of Athol. "It's nice that all the families have a chance to get together like this. We all get wrapped up in our home lives that these little breaks are really nice.
"This helps you realize that the community is thinking of us."
The families were greeted by local city and state officials when they returned from the trip.
BNSF's North Idaho trip kicked off a Christmas season tour in the Northwest for the Holiday Express in which the railway plans to distribute a total of $90,000 to military groups.
This is the third year for the Express. It made a swing through the Montana-Wyoming-North Dakota region its first year before going through the Kansas region last year.
Recent Headlines
---