Meet Jekyll - and Hyde, too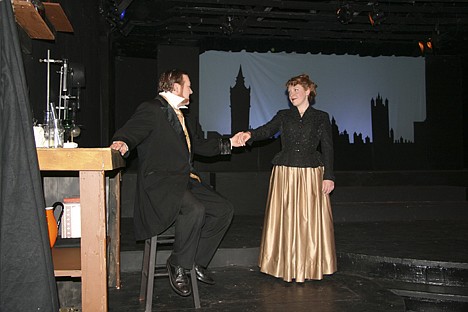 <p>Mike Hynes, playing Dr. Jekyll, and Amy Schodedel, playing Emma, practice a scene from "Jekyll and Hyde," the musical that will be performed at the Lake City Playhouse.</p>
by
BILL BULEY
Staff Writer
|
April 30, 2010 9:00 PM
Mike Hynes is going to have to be good in "Jekyll and Hyde." He's also going to have be evil. So he's been doing some investigating.
Mike Hynes is going to have to be good in "Jekyll and Hyde."
He's also going to have be evil.
So he's been doing some investigating.
"What would a person who is angry, evil, feel versus a person who has a moral sense of society, a sense of what's allowed and what's not allowed," Hynes said. "To try to break those barriers on one side, to try to hang on to those barriers on the other side, it made for an interesting contrast."
The Spokane actor will have the lead role in the musical that opened Thursday night at the Lake City Playhouse and continues its run through May 23.
The story of "The Strange Case of Dr. Jekyll and Mr. Hyde" by Robert Louis Stevenson is being directed by Jared Helm, who is also the theater chair and director at Coeur d'Alene High School.
The cast of 20 has been preparing for nearly three months for the show.
"I think the biggest thing about it is the fact it's a very demanding script with a lot of movement in it," Helm said. "It's not a very stagnant show. It's definitely a new kind of a rock musical."
Many people don't know this show is a musical because they grew up reading the more traditional story. The musical originally opened in about 1990, went to Broadway in the late-90s, and enjoyed some success.
Helm said the local production is "very close to professional."
It follows the story of Jekyll, who is seeking to cure his father's mental illness. When the board of a hospital denies him a human subject, he turns to himself.
"That's when everything begins to become a mess," Helm said.
The 24-year-old Helm grew up in Lewiston and graduated from the University of Idaho in 2008, where he studied theater. He likes the strength of the characters in "Jekyll and Hyde."
"I like the energy it has, the commitment to movement. It's not a show you're going to leave going, 'Oh, that was kind of OK.' You'll be leaving the theater wishing there was more."
Helm said Hynes is perfect for his roles.
"He will show you the brightness of Dr. Jekyll and the fierceness and the harshness of Mr. Hyde," he said.
Hynes said he fell in love with the story and musical in the '90s and always wanted an opportunity to take on the challenging roles.
"I'm real excited to show the dual parts of what people can be inside," he said.
If you go
For tickets to "Jekyll and Hyde," call the Lake City Playhouse at 667-1323 or visit the box office at 1320 E. Garden Ave. Box office hours are Monday through Friday, noon to 4:30 p.m. or until curtain time on show nights. The box office is also open two hours prior to each Saturday and Sunday showtime.
Tickets are $16 for adults, $13 for seniors and military, $13 for students, $10 for children 12 and younger and $11 for groups of 10 or more.
Recent Headlines
---