Brown calls voter a bigot in UK campaign gaffe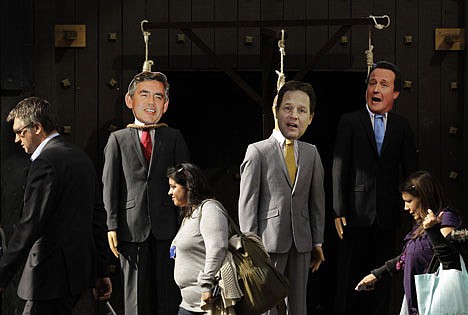 <p>People walk past effigies of the main British political parties leaders, from left, Prime Minister and leader of the Labour party Gordon Brown, leader of the Liberal Democrat party Nick Clegg, and leader of the opposition Conservative party David Cameron hanging from gallows as part of a publicity event outside the London Dungeon tourist attraction in London, Wednesday, April 28, 2010. Britain will hold a national election on May 6 with the most likely outcome anticipated as being a hung parliament. (AP Photo/Matt Dunham)</p>
by
David Stringer
|
April 29, 2010 9:00 PM
LONDON - Britain's Prime Minister blundered into the first major gaffe in his country's short campaign season Wednesday when an open microphone captured him slamming a voter he'd just been trying to win over.
Brown, apparently forgetting that he'd left a television microphone pinned to his chest, called 66-year-old Gillian Duffy a "bigoted woman" as he was being driven from a public meeting where she had needled him on immigration.
Within minutes the bad-tempered aside had exploded across the British media, and within a couple of hours Brown was rushing back to her home to beg Duffy's forgiveness and writing to his supporters to make clear he had apologized.
All the rest of the country could do was look on as the cringe-inducing drama played out over television and radio. The debacle dealt Brown a big setback on the eve of the last TV debate ahead of the May 6 vote.
Duffy, a retired widow and a self-described supporter of Brown's Labour party, met with the prime minister at a campaign stop in the northern town of Rochdale and questioned him about the influx of eastern European immigrants who have come to Britain.
Many people are angry that immigrants are taking jobs at a time when Britain's unemployment level is rising. More than 1 million eastern Europeans have moved to Britain since the EU gained new members such as Poland, Bulgaria and Romania in 2004, but many have since left during the bruising recession.
Brown brushed the question aside and explained that Britons were also working in Europe, jumping into his prime ministerial Jaguar before complaining to an aide about the awkward encounter.
"That was a disaster, they should never have put me with that woman. Whose idea was that? It's just ridiculous," Brown is heard saying.
Asked what Duffy had said to upset him, Brown told the aide: "Everything. She's just a sort of bigoted woman."
Duffy, a grandmother who had worked with handicapped children, had questioned Brown on taxes, university fees, immigration and Britain's record deficit.
Brown's gaffe was immediately broadcast and he was then grilled about it on a televised radio show. Slumped over with his head in his hand, Brown said he realized he had made a mistake and regretted the remarks.
"He's an educated person, why has he come out with words like that?" Duffy said. "He's calling an ordinary woman who's just come up and asked questions ... a bigot."
Duffy said Brown had initially appeared receptive as they discussed policy. "I thought he was understanding but he wasn't, was he?" said Duffy, who said she had planned to vote Labour but would now most likely abstain.
Brown later telephoned Duffy to apologize, then unexpectedly showed up at her home.
Smiling broadly but awkwardly, Brown emerged 40 minutes later and said Duffy had accepted his apology. Duffy stayed in her house and refused to face the cameras.
"She has accepted that there was a misunderstanding and she has accepted my apology," Brown told reporters. "If you like, I am a penitent sinner."
The political consequences of Brown's blunder could be severe since he already is third in opinion polls for the general election and desperate to show his supposedly statesmanlike credentials to dispatch less experienced rivals: Conservative leader David Cameron and Nick Clegg of the Liberal Democrats.
In an ironic twist, Brown's campaign team had even overhauled its election strategy this week - betting that more contact between their leader and ordinary people would revive his flagging election hopes.
Recent Headlines
---