Wings end Coyotes' season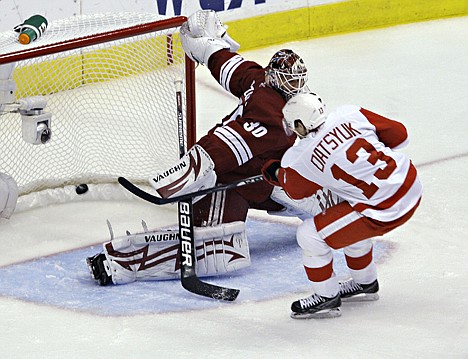 <p>Pavel Datsyuk scores his second goal of the game Tuesday night at Glendale, Ariz.</p>
GLENDALE, Ariz. (AP) - The Detroit Red Wings spoiled the big party in Arizona, bringing the Phoenix Coyotes back to Earth with a resounding thud in a 6-1 rout in Game 7 of their first-round playoff series on Tuesday night.
Pavel Datsyuk scored twice in a span of less than two minutes and Nicklas Lidstrom had two goals a day shy of his 40th birthday for the Red Wings. Detroit, a Stanley Cup finalist the past two seasons, won in Arizona for the third time in the series to advance to a Western Conference second-round matchup with top-seeded San Jose.
Vernon Fiddler scored the Coyotes' only goal on a second-period faceoff.
The Red Wings bombarded goalie Ilya Bryzgalov from the start, outshooting Phoenix 50-33, including 39-21 in the first two periods. Bryzgalov held on through a scoreless first period, but Detroit scored four goals in the second.
Recent Headlines
---