Lakers clamp down, gain control of series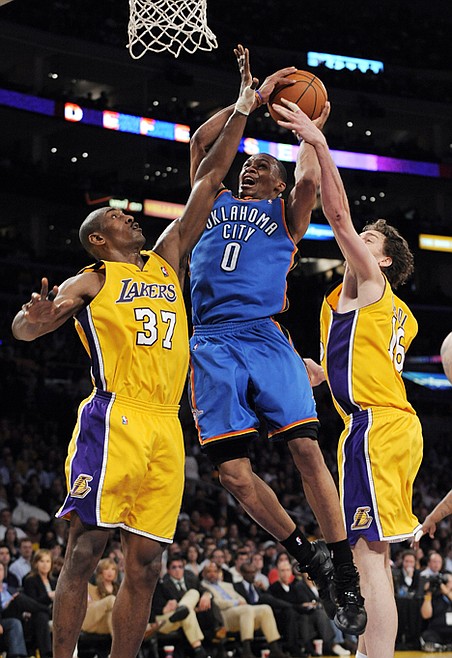 <p>The Los Angeles Lakers defeated the Oklahoma City Thunder on Tuesday night.</p>
Pau Gasol had 25 points and 11 rebounds, Andrew Bynum added 21 points and the Los Angeles Lakers vigorously rebounded from back-to-back losses with a 111-87 victory over the visiting Oklahoma City Thunder on Tuesday night, taking a 3-2 lead in their first-round playoff series.
Kobe Bryant had 13 points and seven assists in three quarters of work as the defending NBA champions coolly shook off the eighth-seeded Thunder's series-tying blowout win in Game 4 with a comprehensive thrashing of the postseason newcomers.
With their offense purring and their defense throttling Kevin Durant and Russell Westbrook, the Lakers led by 21 points at halftime and went ahead by 32 late in the third quarter of their third home victory in the series.
Game 6 is Friday night in Oklahoma City, where the top-seeded Lakers will attempt to reach the Western Conference semifinals for the third straight year.
Durant scored 17 points and Westbrook had 15 on combined 9-for-27 shooting for Oklahoma City, which never recovered after missing its first 13 shots.
While the Thunder are still learning about the demands of playoff basketball, the Lakers already have an advanced degree - and they showed off what they've learned during two straight trips to the NBA finals.
Mavericks 103, Spurs 81: Caron Butler and Brendan Haywood gave Dallas the energy, toughness and scoring it needed - in other words, everything the Mavericks expected when they traded for them a few months ago.
Butler scored a career playoff-best 35 points and had 11 rebounds, and Haywood provided a strong inside presence at both ends in his first start of this postseason, keeping the Mavericks alive by leading them to a victory over visiting San Antonio in Game 5 of their first-round series.
The Spurs were outplayed most of the first half, but trailed by only seven at halftime. Dallas didn't let them hang around much longer, and soon Spurs coach Gregg Popovich began preparing for Game 6 in San Antonio on Thursday.
Celtics 96, Heat 86: Boston is heading to the second round of the NBA playoffs and a matchup with LeBron James and the Cleveland Cavaliers.
Ray Allen scored 24 points, making five 3-pointers in the second half, to help Boston beat visiting Miami in Game 5 of their first-round playoff series and eliminate the Heat.
Boston advanced to the Eastern Conference semifinals thanks to 16 points, 12 rebounds and eight assists from Rajon Rondo. Paul Pierce scored 21 for the Celtics, who will play Cleveland in the Eastern Conference semifinals.
Dwyane Wade scored 31 points — far short of the franchise postseason-record 46 he scored Sunday in Game 4 in Miami to help the Heat stave off elimination.
The Celtics led by as many as 21 points in the third quarter before Miami scored 16 of the next 18 points to make it 69-62. Wade scored 13 in what turned into a 24-6 run that cut the deficit to 73-70 on his three-point play with 10:14 left in the game.
Cavaliers 96, Bulls 94: LeBron James just missed a triple-double despite an apparently sore right elbow, and host Cleveland advanced to a playoff date with Boston by beating Chicago in Game 5.
James, favoring a tender right elbow that appears to hurt worse than he's letting on, scored 19 points — 16 in the second half — and added 10 rebounds and nine assists as the Cavs finally saddled the stubborn Bulls to win the series 4-1. Unable to lift his right arm, James was forced to shoot a free throw left-handed with 7.8 seconds left.
Antawn Jamison scored 25 points for Cleveland, which will face the Celtics, reuniting teams that don't like each other and who played a testy seven-game series in 2008.
Game 1 is Saturday.
"A lot of people are saying they're too old, but we know they're going to come out and give us their best shot," said Jamison, who was not with the Cavs the last time Cleveland met Boston in the postseason. "It's going to be a hard-fought series. It should be fun."
Derrick Rose scored 31 points and Luol Deng 26 for the Bulls, who had several shots roll in and out in the final minutes.
Recent Headlines
---