Local National Guard soldiers to deploy to Iraq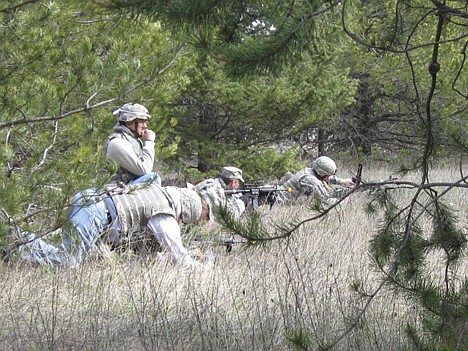 <p>Area Army National Guard soldiers train recently at Farragut State Park during an exercise to educate their civilian employers of their duties.</p>
by
Brian Walker
|
April 27, 2010 9:00 PM
POST FALLS - Local Army National Guard soldiers will leave on Sept. 17 to serve a yearlong mission in support of Operation New Dawn in Iraq, the U.S. Department of Defense announced on Monday.
Nearly 80 soldiers attached to the Post Falls armory will be effected by the mobilization, along with another 25 each in Bonners Ferry and Sandpoint, said Col. Tim Marsano, Idaho National Guard spokesman.
"Last September soldiers were given a heads up," Marsano said. "This is the other shoe dropping, saying that they are in fact going."
More than 2,700 soldiers of the 116th Cavalry Brigade Combat Team will be deployed.
About 1,500 are from Idaho, the rest Montana and Oregon.
They will train for about two months at Camp Shelby in Hattiesburg, Miss., then leave for Iraq in November. Where they will be stationed in Iraq hasn't been determined.
"We anticipate about 10 months of 'boots on the ground' in Iraq," Marsano said.
This will be the second deployment of the 116th to Iraq. It was also deployed there from late 2004 to late 2005.
The North Idaho armories are part of the 145th Brigade Support Battalion headquartered in Lewiston.
They have been trained in a variety of tasks such as transportation, storage, equipment management and maintenance.
"But we anticipate these soldiers will be providing security both for convoys and U.S. and Coalition installations in Iraq," Marsano said.
Support groups have been preparing families for the deployment and will continue to serve them during the mission.
Dave Bruyette, a local pastor who is leading one of the family readiness groups, said local resources are being contacted to assist families.
"There's a whole gamut of things that can go wrong (at home) during deployment," he said. "We've spent the past three years preparing families to build a sense of community inside the unit so those folks don't feel like they're on their own and soldiers don't have to worry about them."
Those interested in being on a team to support families or wanting to make a tax-deductible donation can contact Bruyette at 664-9083.
A local community send-off for the soldiers is being planned.
Recent Headlines
---