Mine safety officials ignore backlog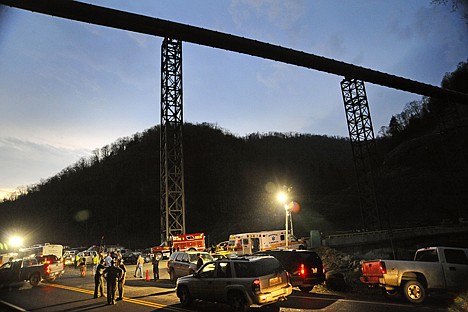 <p>FILE - In this April 4, 2010 file photo, West Virginia State Police direct traffic at the entrance to Massey Energy's Upper Big Branch Coal Mine in Montcoal, W.Va. 29 coal miners were killed in the April 5 explosion. Federal officials ignored warnings three years ago that new mine safety regulations would trigger a surge of new legal cases that could jeopardize the goal of making mines safer. (AP Photo/Jeff Gentner, File)</p>
by
Jim Drinkard & Sam Hananel
|
April 25, 2010 9:00 PM
WASHINGTON - Federal officials ignored warnings three years ago that new mine safety regulations would trigger a surge of legal cases that could bog down enforcers. The backlog of cases is now blamed for thwarting enforcement at mines across the country, including the site of a deadly West Virginia explosion.
Despite the predictions of an overwhelming caseload, the head of the Federal Mine Safety and Health Review Commission told Congress in 2007 that he expected the rate of new cases to slow down - and therefore his agency didn't need more money.
The estimate from the commission's former chairman, Michael Duffy, that cases would slow to about 3,000 a year turned out to be wildly inaccurate. New cases actually tripled in 2008, reaching nearly 9,000, as mine companies began aggressively contesting violations.
The massive backlog has now ballooned to more than 16,000 cases. Lawmakers and President Barack Obama have accused Massey Energy Co., owner of the Upper Big Branch mine in West Virginia, and other companies of tying up resources with frivolous appeals just so they can avoid tougher enforcement. The explosion at Upper Big Branch on April 5 killed 29.
By filing lengthy legal appeals that last months or years, mine companies can delay a finding of a pattern of violation that could lead to stricter oversight.
The commission - an independent agency - resolves disputes when mine operators challenge the accuracy of violations discovered by inspectors from the Mine Safety and Health Administration.
Questions about the backlog and why the government didn't act more quickly to address it are sure to come up as the Senate convenes its first hearing on the mine accident next week.
"When that backlog impacts mine safety and stymies the enforcement process, it should become a priority," said J. Davitt McAteer, former head of MSHA during the Clinton administration.
"These are creative lawyers on the other side and you've got to be able to deal with them," said McAteer, who is heading an independent investigation of the mine accident. "They've come up with a tactic and they have every right to challenge the citations under law. What they are going to do is bollix up the system."
Massey has defended its safety record and says it only disputes violations when there is a valid disagreement. MSHA records show the rate of serious violations last year at the Upper Big Branch mine that required miners to halt work while immediate repairs were made was nearly 19 times the national rate.
Last week, Obama ordered federal officials to work with Congress to "close loopholes that permit companies to shirk their responsibilities."
But the root of those problems was already becoming apparent back on April 17, 2007, when Duffy was called to a meeting with congressional staff about his commission's budget request. A House staffer pointedly asked why Duffy wasn't asking for more money, according to two officials familiar with the meeting. The officials requested anonymity because the meeting was private.
Duffy, who spent a decade as a top lawyer for the National Mining Association before he became the commission's chairman, said he didn't expect any surge in cases. His refusals came despite the concerns of other commission staff members and its chief administrative law judge who warned that a tsunami of cases was going to come, according to one official.
The judge, Robert Lesnick, sent at least three memos over the next two years to Duffy pleading for more judges and staff to help handle the load. Lesnick declined to comment.
Later in 2007, the surge in cases began. With rising fines, mine operators began contesting more violations. The Upper Big Branch mine was contributing to the spike, contesting 97 percent of its "significant and substantial" violations in 2007 alone, according to MSHA data.
When Duffy realized his mistake later that year, he asked the White House Office of Management and Budget if he could get a modest budget increase after all. But an OMB official turned him down and said the commission was going to have to learn to live with a bigger backlog.
Recent Headlines
---