Christian Supply shuttered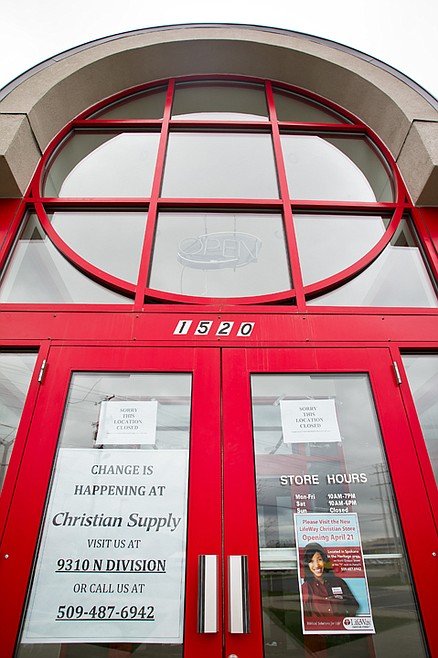 <p>Christian Supply in Coeur d'Alene has recently closed it doors.</p>
by
Rick Thomas
|
April 25, 2010 9:00 PM
COEUR d'ALENE - For four decades it has been a landmark, with its large billboard eventually giving way to an electronic sign flashing biblical phrases to travelers on Interstate 90 on the western fringe of the city.
Sitting between the freeway and Appleway Avenue was a small Christian bookstore. Originally built on the site by a nonprofit corporation created in 1962 for that specific purpose, what started out as the Bible Book Nook, then became Christian Supply and later a corporate store. But that has disappeared with only a sign directing shoppers to an unaffiliated store on the northern side of Spokane.
Christian Supply operated the Coeur d'Alene store and several others in Spokane. On April 19, several Christian Supply outlets were purchased by another national chain.
"We've operated the Christian Supply stores in this area since 1993, and we're happy to be passing the ministry baton to LifeWay Christian Stores who has the same heart and desire to serve these communities that we've had these many years," said Andrea Marek, president and chief executive officer of Pamplin Communications Corp., parent corporation for Christian Supply. "It's been a real joy and pleasure to work with the LifeWay team throughout the process of making this transition."
The Coeur d'Alene store was not part of the transaction, however, said Brooklyn Lowery, spokeswoman for LifeWay. It and two other stores in Spokane were closed, said an associate at the northside Spokane store who asked not to be identified. He said the company is looking at reopening the Northtown Mall and Veradale stores in the future.
Inventory from Coeur d'Alene was transferred to the LifeWay stores in Spokane and the other Christian Supply purchased by LifeWay in Beaverton, Ore., he said.
"We didn't know until after the fact," that Christian Supply was leaving, said Ron Vieselmeyer, a long-time board member of Highway Evangelism and currently president of the corporation.
The lease still has time remaining, and the owners were not given notice the store was leaving, he said. As for the payments, "They sent it to us up until now." Christian Supply is negotiating with them on an agreement for the balance due, Vieselmeyer said.
Marek did not return calls from The Press seeking reasons for the departure of Christian Supply from Coeur d'Alene. An e-mail inquiry to her only resulted in an automated response.
A Coeur d'Alene group, Highway Evangelism, Inc., owns the 4,500-square-foot building and nearly three acres of land assessed at more than $1 million.
"We will be looking for a new tenant," said D.V. Moyer, treasurer and long-time board member. "The objective is not just a tenant, but a Christian organization."
Christian Supply had been a tenant for about a decade, he said.
"We were delighted when we were approached about transforming the Christian Supply stores into LifeWay Christian Stores," said LifeWay Christian Stores President Mark Scott. "The Christian Supply stores have been a strong contributor in serving these communities in the Northwest for many years. We hope to honor their ministry in the local area through our service to churches and individuals."
With the addition of the two stores, LifeWay operates 156 stores in 26 states.
Moyer said Highway Evangelism has no interest in selling or developing the Coeur d'Alene property commercially. The long-term goal is to build a Christian conference center. That would involve tearing down the old building to make room for the new facility. It would include an auditorium with seating for about 500, similar in size to the auditorium at the Kroc Center, Moyer said.
"That has been our goal for a number of years," he said. "We need the right mix."
The departure of Christian Supply is a disappointment to many, Vieselmeyer said.
"A lot of people would like to see a Christian book store here," he said. "People keep stopping by.
"We're putting out feelers."
Recent Headlines
---