Abbas calls on Obama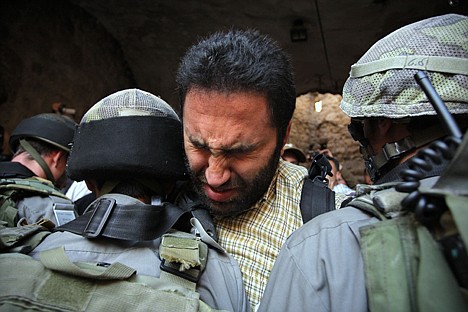 <p>Israeli border police officers scuffle with a peace activist during a protest by Palestinians and peace activists against the closure of Shuhada Street to Palestinians and the Jewish settlements in Hebron in the West Bank city of Hebron, Saturday, April 24, 2010. (AP Photo/Nasser Shiyoukhi)</p>
by
Karin Laub
|
April 25, 2010 9:00 PM
RAMALLAH, West Bank - Palestinian leader Mahmoud Abbas called on President Barack Obama on Saturday to impose a Mideast peace deal, reflecting growing frustration with what Palestinians see as Washington's failure to wrangle concessions out of Israel's hardline government.
In an unusually blunt appeal, Abbas said that if Obama believes Palestinian statehood is a vital U.S. interest, then the American leader must take forceful steps to bring it about.
"Since you, Mr. President and you, the members of the American administration, believe in this, it is your duty to call for the steps in order to reach the solution and impose the solution - impose it," Abbas said in a speech to leaders of his Fatah movement.
"But don't tell me it's a vital national strategic American interest ... and then not do anything," he added.
Abbas spoke a day after meeting with Obama's special Mideast envoy, George Mitchell, who has tried in vain for more than a year to bring Israelis and Palestinians back to the negotiating table. Abbas says there's no point in holding talks as long as Israel keeps building settlements on Palestinian-claimed land and refuses to discuss the fate of east Jerusalem, the sector of the city Palestinians claim as a future capital.
Mitchell is expected to hold talks with Israeli Prime Minister Benjamin Netanyahu today, their second meeting in three days. However, there was no sign of a breakthrough in this round.
The U.S. has proposed so-called proximity talks, in which Mitchell would shuttle between the two sides, in hopes of ending the stalemate and paving the way for direct negotiations. However, the Palestinians say they won't engage unless Israel promises not to start new housing projects in east Jerusalem. Netanyahu reiterated earlier this week that he will not freeze construction in the city.
The issue of settlement expansion has emerged as a major point of contention between Israel and the Obama administration.
Israel has resisted U.S. demands for a comprehensive freeze, instead agreeing only to slow construction in the West Bank, but not east Jerusalem. Tensions flared in March when Israel announced plans for 1,600 new homes for Jews in east Jerusalem. The announcement, which came during a visit by U.S. Vice President Joe Biden, enraged U.S. officials.
Washington's failure to get Israel to comply with a settlement freeze - one of the Jewish state's obligations under a U.S.-backed peace plan first introduced in 2003 - has frustrated the Palestinians.
Recent Headlines
---